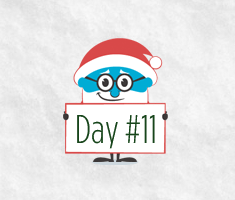 To learn more about how the 12 Days of Laxmas work, check out our intro post, which explains how to enter to win and features a special message from Santa Claus. Then come back here and join in the festivities!
On the ELEVENTH day of Laxmas, Cascade and Maverik gave to me…
A Maverik Spider 17 lacrosse head custom strung by Connor Wilson!
Let's see who our winner is, shall we?
Important note: If you won, please contact us using the same email address you used to enter. 
There's just one day of Laxmas left, but it's not too late to join in on the fun! Sign up below, and together we'll make this the best Laxmas ever! If you ordered a Holiday Grab Bag, you're already good to go.
BONUS ROUND – WIN A CUSTOM HELMET!
In addition to all the giveaways we'll be announcing on our website, Maverik and Cascade have also given us the go-ahead to raffle off a Cascade Factory Custom Helmet at the end of the 12 Days of Laxmas to one lucky person who takes a few extra steps to spread the word on Facebook.
Head over to the Cascade and Maverik Facebook pages to learn how to win!
This means 13 giveaways in total, and lots of holly jolly winners to close out an awesome year!