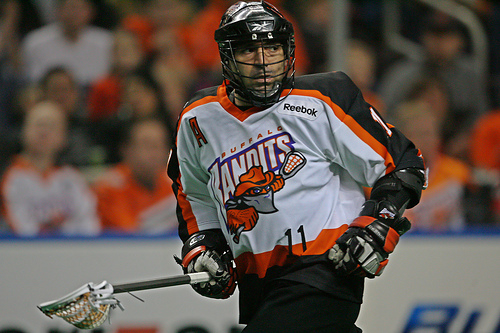 Editor's Note: Week 2 of the 2012 NLL season was jam-packed with fighting, scoring, rookies, veterans, helmets and more!  The action on the floor was intense, and no supposed favorites were safe from a potential loss.  Our prognosticators tried their best, but came up a little bit short with their predictions, each going 1-3.  So this week, they've stepped up their game, and are now competing with Connor Wilson and Ryan Connors, two yanks who knows nothing.  Let's see how we all do!
2012 NLL Season Week 3 Preview below… Enjoy!  And if you think you can do BETTER with your picks than us, drop them in the comments!!!!
Edmonton Rush Vs. Colorado Mammoth – 01/20/2012 09:00 PM – Rexall Place, Edmonton, AB
The first match up of the weekend sees the Colorado Mammoth head north to Rexall Place in Edmonton, Alberta to meet the Rush.  This marks the opening game for a very young, and new look Edmonton Rush.
Colorado opened last weekend with a 20-14 win over the Minnesota Swarm.  This game saw John Grant Jr. score four goals, register seven assists, and fire thirteen shots on net.  This guy is unstoppable, and couple that with the strong complimentary players the Mammoth have assembled I don't see them losing this game.
It is tough to gauge the Edmonton Rush because this group of players hasn't played a regular season game together yet.  Scott Evans, Shawn Williams, and Zack Greer are solid players, but pairing up against a core that includes John Grant Jr. and Gavin Prout there is a giant question mark.
A lack of chemistry and star power, and I can not see Edmonton beating a Colorado team that is already rolling from last weekend.
JMATH:  COLORADO
FOXY:  COLORADO
BRASH:  EDMONTON
CONNOR:  COLORADO
RYAN: COLORADO
Washington Stealth Vs. Philadelphia Wings – 01/21/2012 07:00 PM – Wells Fargo Center, Philadelphia, PA
The first of the three Saturday games involves the Washington Stealth flying under the radar to Wells Fargo Center to meet the new look Philadelphia Wings.
In Washington's opening game last weekend they lost a close one to the Calgary Roughnecks.  Look for Washington to use this loss as motivation for the next one.  The duo of Rhys Duch and Lewis Ratcliff combined for 12 points and 24 shots in game one and expect more where that came from.
I think we were a little optimistic on the Philadelphia Wings winning so quickly.  Although they added some huge names to their roster, 'Rome wasn't built in a day', and there is obviously a learning curve that Philly must try to shorten.  Crowley, Dawson, and Westervelt scored seven of Philadelphia's twelve goals, revealing secondary scoring would be much appreciated in their second game.
If Philadelphia is built to win in a few years Washington is built to win right now, and there is no way the Stealth lose this one.
JMATH:  WASHINGTON
FOXY:  WASHINGTON
BRASH:  PHILADELPHIA
CONNOR:  WASHINGTON
RYAN: WASHINGTON
Buffalo Bandits Vs. Rochester Knighthawks – 01/21/2012 07:30 PM – Blue Cross Arena, Rochester, NY
The Buffalo Bandits meet the Rochester Knighthawks in Rochester, New York for what should be the game of the week.
Buffalo comes fresh off of a 14-10 victory over 2011 Champions Cup winners the Toronto Rock.  John Tavares led the way with two goals six assists followed by Scott Self-'less' with one goal and four assists, and Luke Wiles with three goals and one assist.  Scoring was spread out for the Bandits with fourteen different players registering at least one point.  Mike Thompson also had a solid game between the pipes stopping 41 of 51 shots on goal.
Rochester walloped Philadelphia last week in an outcome that made all Lax Beauty pickers look like we didn't have a clue.  Mike Accursi had ten points, Cody Jamieson had nine, and Jordan Hall had eight.  All lines were firing for Rochester last weekend and hopefully they can carry this momentum into a much tougher opponent in Buffalo.
I pick Buffalo this weekend solely due to strength of opponent they played and won against last week.
JMATH:  BUFFALO
FOXY:  BUFFALO
BRASH:  BUFFALO
CONNOR: ROCHESTER (we think he made this pick because Connor is a Johnny Powless fan)
RYAN: ROCHESTER (do the Yanks know something?!?!?!)
Colorado Mammoth  Vs. Calgary Roughnecks – 01/21/2012 09:00 PM – Scotiabank Saddledome, Calgary, AB
The final match up of week three includes the Colorado Mammoth in the second night of their double header making the drive south to meet the Calgary Roughnecks at the Scotiabank Saddledome.
Colorado comes into this game the night after playing the Rush in Edmonton.  The Mammoth should win that first game, but are definitely the underdogs coming into Saturday's match up with the 2-0 Calgary Roughnecks.  Couple this with fatigue from Friday's game and travel, and you don't want to count on Colorado winning this one.
Calgary's the best team in Lacrosse right now.  In two games they have beat both teams involved in the 2011 Champions Cup in the Toronto Rock and Washington Stealth.  If this young group was able to beat these teams, they shouldn't have any trouble with Colorado this weekend.
Calgary will beat a tired, shallow Colorado team handily in front of the Roughneck faithful.
JMATH:  CALGARY
FOXY:  CALGARY
BRASH:  CALGARY
CONNOR:  CALGARY
RYAN: CLAGARY
So who do YOU think win will the four games?  Let us know in the comments!