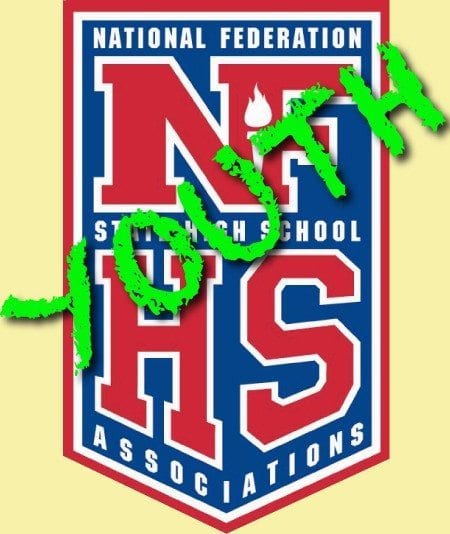 US Lacrosse recently released 2014 rules changes and points of emphasis for the 2014 lacrosse season. Although not a ton has changed, the US Lacrosse rules committee continues to make advances toward keeping young athletes safe while competing in a full contact sport. There are a few new terms you will see used, one being "defenseless player", and you'll want to be sure to familiarize yourself with the rule, as it will be changing how defense is played.
As a little background, I have been officiating lacrosse for nearly ten years at the youth level. In this article, I will be commentating on the 2014 youth lacrosse rule revisions as a veteran youth official and leaving my other perspectives out of it.
Violent Collisions
First of all, I think USL did a great job on this year's first point of emphasis. Typically we are just reminded that the head is off limits, or checking the back is not OK. This years they go as far as stating:
[T]here is no justification for deliberate and excessively violent collision by any player at any youth level, especially intentional player-to-player collisions with defenseless players (so-called "blind side" and "buddy-pass" checks), checks involving the head and/or neck, and excessive body-checks ("take-out checks")
I believe in the development of stick skills and basic athletic fundamentals, and sometimes the basics are removed from the game due to poor instruction, or when players engage in acts they learned from other sports like football or hockey, or even daily life, which don't directly mesh with how lacrosse is now played.
In our fathers' days, the buddy pass was an opportunity defenders dreamed about; completely crushing a defenseless player after his teammate hung him out to dry with a huge lob pass. What does this teach us? That it is ok to severely injure the opposition in order to make a big play. This type of collision often results in injury, slowing the game down, and removing a member of our lacrosse family from the game we share, and for who knows how long. One can not expect the developing adolescent body to withstand hits like these and not suffer some sort of damage, long or short term.
By no means do I believe body checking should be eliminated from the game, rather both of the players must be able to have a fair chance to defend themself against a collision. Hitting is inevitable in lacrosse, but I firmly believe that coaches need to be instructing players the proper mechanics of applying and receiving a body check. When a player knows the hit is coming, the results can be less severe, in my opinion.
"All participants must work together to reduce or eliminate such violent collision from the game."
It's a total effort, where everyone must buy in.
Sportsmanship
US Lacrosse encourages leagues and local programs to utilize the Sideline Manager and Sportsmanship Card program, details of which can be found at http://www.uslacrosse.org under the "Programs & Grants" tab on the homepage.
This is all about understanding how young athletes have impressionable minds, and how the way we conduct ourselves around them can rub off. When parents, coaches, and even referees start acting out of line, how can we expect the players not to do the same?
When coach is yelling at the refs why can't I?
Let's get this thought pattern out of the game.
Age and Eligibility Guidelines
These changes add a little structure to the youth competition across the board, making sure teams are on the same playing field developmentally, at least according to age. It's not a comprehensive fix, but it does address some issues and clarify who should play where.
Age Grouping Quick Reference Table
Birthdate Age Bracket
Born on or after 9/1/1998 – U15
Born on or after 9/1/2000 – U13
Born on or after 9/1/2002 – U11
Born on or after 9/1/2004 – U9
The Game – Number of Players
Rule 1 Section 1
Game can be played with fewer than 10 but no less than 7 players if the league wants it that way, or if both coaches agree before the game. It makes sense to me, let the kids play!
The Field – Dimensions
Rule 1 Section 2
The field can be smaller if everyone agrees upon it. Like I said, if they can find a way to play I want them to play, and hey, it's less running for me! Small side games work in soccer, and high school football, and they can work in lacrosse. If it gets kids involved, playing, and having fun, while opening doors, it's a good move.
The Ball
Rule 1 Section 5
The ball should be white but if agreed upon it can be yellow, orange, or lime green. The ball must have a stamp that says, "Meet's NOCSAE Standard", pretty much making all of last years balls now practice balls. They had to do it sometime and programs have known for a few years, there's not much you can do about it except buy new balls.
Crosse Dimensions
Rule 1 Section 6
U11 Long poles must be within 47 to 54 inches.
U9 All crosses must 37 to 42 inches.
Just trying to make sure the sticks fit their bodies! Ever seen a kid with a stick twice as long as he is? It's not pretty.
Player Equipment
Rule 1 Section 9
Goalies MUST wear arm pads. I'm old school, so I believe it should be their choice, but that is no longer the case.
Everyone has to wear a cup. I love this rule, it protects future generations of laxers. I'm taking your word though, whether you're wearing it or not.
They recommend rib pads, me too.
Also they made it a point to say, who cares if they don't match? This isn't varsity, we are just glad they showed up! The home teams are responsible for bringing contrasting colors now, and this makes sense for the youth. Because of travel and communications reasons a team might only bring one set, and both teams might have to wear the same color jerseys. It's an added bag, but avoids confusion for everyone.
Game Administration – Sideline Manger
Rule 1 Section 12
Each team should provide a designated Sideline Manager (one adult per team, on site, per game-day contest) to help encourage, maintain, and manage the sportsmanlike behavior of spectators and fans and assist the coaches and officials in keeping spectators and media an appropriate distance from the sideline. If used, it is the responsibility of each team administration to ensure that the Sideline Manager is present and in place to perform his/her duties; however, this is not a game day rule to be enforced by the officials.
Greatest idea yet! I can't imagine my old man telling everyone to shut up during my games. Let the players play, let the coaches coach, and keep all non-constructive criticism to yourself, or else Billy's dad is going to have a word with you, and he's a Marine. The position also makes sure that everyone stays off the sidelines during the games. Love it!
Coaches
Rule 2 Section 3
If agreed upon, at the U9 level, 1 coach can be one the field with his player to provide instruction and encouragement. They have to stay out side of the wing lines and can only talk to their kids.
Length of Game
Rule 3 Section 1 & 2
US Lacrosse recommends 4 10 minute stop-time quarters for U15 and U13, 4 8 minute stop time quarters for U11 and U9 or 12 minute quarters for running time. U15 and U13 play with the final 2 minute stall, U11 and U9 do not.
Lineup
Rule 4 Section 2
It is encouraged that officials meet with the both teams, separately or together, to explain the ground rules, points of emphasis, and safety precautions before each game. They are also remind players to be properly equipped, including a mouthpiece at all times on the field.
Facing Off
Rule 4 Section 4
U15 and U13 – All NFHS faceoff rules apply.
U11 and U9 – If a team is ahead by 6 goals the losing coach may accept the ball at the faceoff x.
Advancing the Ball
Rule 4 Section 13 & 14
U15 and U13 – Use 20 second defensive count and 10 second offensive.
U11 and U9 – No count but the goalie's 4 seconds.
Substitution Procedures
Rule 4 Section 21 Article 2
U11 and U9 still have the option for a sideline horn if determined before the game.
Team Time-outs
Rule 4 Section 25
Everyone gets 2 timeouts per half, leagues are encouraged to give more if used for instruction.
3 YARD RULE
Instead of the former 5 yard radius on ground balls, youth players are only allowed 3 yards to check an opposing player. I can get behind this, they do not need 5 yards for ball/man, only the guys a few feet from the ball are the ones really paying much attention.
Illegal Body-Check
Rule 5 Section 3
This is the Defenseless Player Rule I mentioned in the beginning, and I am showing the exact wording from US Lacrosse, since this a completely new concept in the rule book. I fear that during the first year or two of this rule it might have some widely different interpretations across the board. I hope that officials and coaches can work together to keep the players safe and interpret the rule only in a way to benefit the play of the game.
Check Involving the Head/Neck
Rule 5 Section 4
A cross check and violent slash are 2 or 3 minute non-releasable penalties. A player with the ball who lowers his head can also receive a 2 or 3 minute NR. A foul that is excessively deliberate may result in an expulsion from the game. I am behind this rule 100%, as it is only in the best interest of the player's safety.
Slashing
Rule 5 Section 7
At all youth levels, a one handed check, whether it makes contact or not, is to be considered a slash. Coaches will go nuts on this one but it encourages proper technique by keeping two hands on the stick. My only thought is, in this day and age, kids are getting recruited for college in the 8th grade (I'm not agreeing with that), so until the player demonstrates that he can not control his checks, I typically gave him the benefit of the doubt. It will be interesting to see how this is enforced nationwide.
Unnecessary Roughness
Rule 5 Section 9
Unnecessary Roughness includes:
An excessively violent hold or push.
Deliberate and excessive contact made with a player setting a screen.
Any avoidable act that is excessively violent with the body or crosse, legal or illegal.
Checks may not be delivered in a punching blow.
Unsportsmanlike Conduct
Rule 5 Section 10
Tone, intent, and body language all can contribute to unsportsmanlike conduct. There is a no tolerance policy now that I firmly agree with. Everyone needs to be held to a higher standard. Why wouldn't we want that?
Fouling Out
Rule 5 Section 11
4 personal fouls, or 5 penalty minutes accumulated in a game, and a player has fouled out. A team may replace him once the final penalty time has passed. At the U9 level, the team never has to be man down.
Ejection
Rule 5 Section 12
If a player or coach is ejected, they sit one game. If it's the second offense, they sit two games. The third time is an expulsion from the remainder of season or tournament.
Stalling
Rule 6 Section 10
U11 and U9 – Do not play stalling, but if they are not moving the ref is to verbally instruct the players to "advance the ball", if they don't move the official gives a 5 second count for them to start moving the ball.
Time Serving Penalties
Rule 7 Section 1, 2 and 3
Running time penalties are also running time. In U9 the player is to leave the field for his entire length of penalty time, but his team may replace him on the field with out going man down.
Game Termination
An official may terminate any game in response to flagrant acts of unsportsmanlike behavior including excessively rough play or rough play as encouraged by a coach, athlete, or spectator. Game termination should be used by an official as a last resort, after issuing a strong warning that next occurrence of unsportsmanlike behavior can result in a terminated match. A terminated game can be initiated on the first unsportsmanlike behavior, depending on results and the officials judgement. The game shall be recorded in the books as a 1-0 win for the innocent team. I am behind this rule completely, it gives the officials so leverage to use against unruly behavior by everyone involved in the contest.
Conclusion
I know this has been quite the read, and a lot to absorb. I don't feel that any rule was created or "beefed up" for any reason other than player safety. I am looking forward to the 2014 season to see the quicker whistles and faster game play. It will be interesting to see how coaches begin to teach the players new method of initiating contact, I hope that it become apparent that footwork is the most import part of playing defense.
Please comment below to let us know what rules you agree, or don't agree with. Tell us what you think US Lacrosse may have forgot or what you think they are doing right. If you or your team have played by any of the new rules, let us know, we are interested in hearing how they are working out!