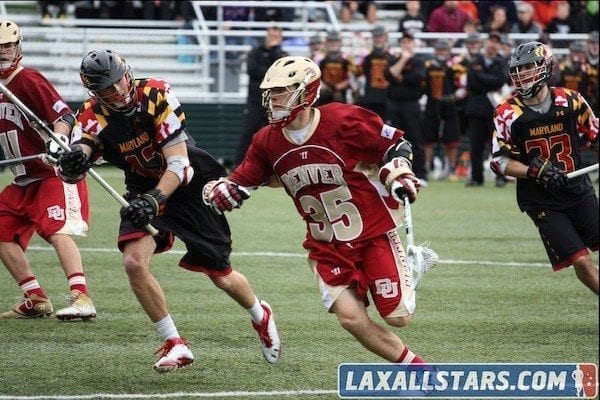 We're back with the Alphabetical 2014 NCAA D1 Previews! Like last year, we'll go through all of the D1 men's teams for 2014 (there are 67 this year!) and we are now moving on to the Denver Pioneers, located in Denver, CO.
After going 9-7 in 2012, I made the bold prediction that Denver would win the National Championship in 2013. While Denver came close (losing 8-9 to eventual finalist Syracuse) and had a strong 14-5 record, 2013 left a taste of "not quite" in the Pioneers' mouths, and you can be sure that they want to take things at least one step further in 2014.
Denver plays in the Big East now, and aside from three long trips East for games, the Pioneers have to be considered the heavy favorite to win their conference. Tough OOC games with local rival Air Force, 2013 champ Duke, Penn, OSU, Penn State, and Notre Dame should help test Denver and provide a really solid overall strength of schedule. Playing Duke early is a potential bonus as the Blue Devils tend to start a bit slow sometimes.
The big area of concern for Denver is on offense. Only 3 of their eight top scorers are returning for 2014, and this definitely raises some eyebrows because it means inexperienced players will have to step up. That being said, Denver does an excellent job of recruiting players who fit into their system, and the cupboard is far from bare. Wesley Berg returns at attack, and Eric Adamson and Jeremy Noble both return in the midfield. That trio alone would give any coach confidence. Sean Canninzzaro also returns, and should play a much bigger role this year, potentially seeing time at attack or midfield.
Denver has a couple Canadian freshman attackers out of the Hill Academy on the roster, and two D1 transfers (from Rutgers and High Point), as well as a number of other potentially talented offensive weapons in the midfield. It might be new faces doing the scoring at times, but I expect them to be talented and prepared.
In goal, Denver also has depth. That just sounds weird, doesn't it? Ryan LaPlante AND Jamie Faus both return from last year. LaPlante started every game and played 633 minutes. Faus played 500 minutes. So they have two guys who can clearly play. They also have four other goalies on the roster for a total of six. Bizarre, but goalie is a valuable position, so maybe it's actually genius.
Surrounding LaPlante/Faus/whoever else ends up playing for Denver this year will be a pretty solid defense. Carson Cannon down low and Mik Riis at pole provide some stability. Teddy MacKenzie could see some time and the coaches have to like his football toughness (he played at Bucknell before transferring to DU). Denver also added four freshman poles and two freshman LSMs. Their average height is a solid 6'2″. It's a potentially good group for the future, and some may see some time as they develop.
Chris Hampton seems to be the only returning players for Denver with any face off experience for the team, and he only took 33 draws last year, winning 12. This is a definite area to watch for Denver, but I find it highly doubtful that they didn't either bring in a top level freshman, or have someone else learning from Chase Carraro before he graduated.
Overall, Denver has some holes to fill, but should be solid on their backend, giving them a good foundation early on. I expect the offense to begin to click at some point, and it could look like 2013 all over again with a new cast of characters. Face offs concern me more than anything else, but I'll give Coach Tierney and Co. the benefit of the doubt here. I think they probably deserve it at this point.
For more NCAA D1 Lacrosse coverage, check out Alphabetical 2013 NCAA D1 Preview: Air Force, Albany, Army, Bellarmine, Binghamton, Boston, Brown, Bryant, Bucknell, Canisius, Colgate,  Cornell, Dartmouth, and Delaware.