Home
Authors
Posts by Connor Wilson
Connor Wilson
At 1-5, the Boston Cannons' hopes of making Championship Weekend are starting to erode just a bit, and for a team with the amount of talent, veteran leadership, expectations, and consistency, this is pretty shocking. Is it time to panic, MLL style?
It should come as no surprise that Randy Staats (attack) and Warren Hill (goalie) took home the NJCAA Player of the Year hardware, or that both players came from Onondaga Community College, which is fresh off winning their fifth straight JuCo title.
Over the last few weeks, parts of Europe have seen intense flooding, and the home of the Ales Hrebesky Memorial (the greatest box lacrosse tournament in Europe) is no exception. Josh Potter joins LAS to tell his Radotin story, and to provide an avenue to assist the wonderful people of this small Czech town.
The tourney runs from June 22-23rd in Stowe, VT. There will be a men's open, Elite, and SuperMasters tournaments going on all weekend. The term Pro-Am refers to the talent level of the event. Not quite pro, but definitely not amateur.
The Chesapeake Bayhawks came in to New York City to take on the New York Lizards, and they absolutely dominated the rain-soaked game, which was the first ever pro field lacrosse contest played at the iconic and historic Icahn Stadium on Randall's Island.
Towards the end of the college season, work picked up to the point that I couldn't string as much as I'd like to, but now that things are slowing down just a little bit, I've found the time to dial just a couple of sticks... here's a look at some of the heads I've been stringing.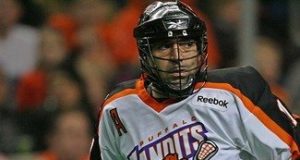 This amazing video features the Mississauga Tomahawks playing against the Etobicoke Eclipse in their final season before folding in OLA Jr A lacrosse. John Taveres played for Mississauga, where he took home Rookie of the Year honors in the OLA in 1988.
The LXM PRO swings back into action on Saturday, June 8th in Orange County, California. While the location isn't a new one (LXM has held numerous events in the OC), the game itself definitely presents a number of new aspects to the LXM, and we're excited to preview some of these evolutions the Tour will see in 2013.