Home
Authors
Posts by Connor Wilson
Connor Wilson
It's easy to find a lacrosse clinic in your area, but it can be hard to find a truly great lacrosse clinic. What is a truly GREAT lacrosse clinic?
The Spirit Game is a very special documentary movie being produced about the Iroquois. It will not happen without YOUR help!
You might drop a game in March, but there are no fools in April. This is the biggest month of NJCAA lacrosse action before playoffs start up in early May.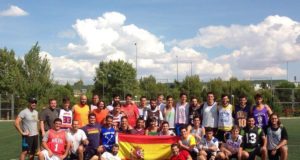 Do you want to play U19 Lacrosse for Spain this Summer in the 2016 FIL U19 World Championships? If you meet certain criteria, you may be eligible!
It's Monday, we are down to 2 undefeated teams, so that means the In Your Face LaxCast guys are breaking down the weekend's action in D1 men's lacrosse.
What do you think of my Top 20, it's the BEST Top 20, isn't it? When I make a Top 20, I make an awesome Top 20. Really, it's unbelievably good.
Ty Xanders sees more recruiting events in person than almost anyone else. He's the self-described Mel Kiper of lacrosse, and he knows his stuff!
Greg from East Coast Dyes came up with the fantastic ECD Micro Mesh Challenge, and our contestants killed it with their entries!