Home
Authors
Posts by Connor Wilson
Connor Wilson
Welcome to Wood Stick Wednesday! We have wooden sticks from Thompson & Sons Lacrosse Company. Thompson & Sons is run by Mike Thompson out of Akwesasne.
Jimmeh Koita crouched, waiting for the whistle. When it came he exploded over the ball, spinning wildly before popping it up, and catching it in his stick.
I came up with a new hybrid pocket (or at least what I think is a new hybrid pocket) by combining different elements from a couple traditional variations.
Examining the question, "Has Major League Lacrosse improved in 15 Years?" Connor Wilson looks as the past and offers light for the future!
The US powered past Israel in the 2015 WILC Bronze Medal game, 15-4, to claim their fourth bronze medal in as many WILC events. We have VIDEO!
This photo gallery from the 2015 Hawaii Lacrosse Invitational comes to you courtesy of Bill Millman. Thompsons, Gary Gait, a crazy beard, and more!
This week I fix up an Old Wooden Goalie Stick. Welcome to Traditional Thursday! It's an old Bacharach Rasin wooden goalie stick... I think!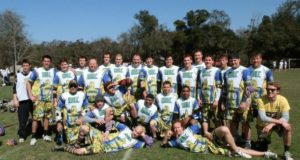 The 2016 Mardi Gras Lacrosse Tournament will be hosted in New Orleans' beautiful City Park from January 29th through January 31st, 2016. Come PLAY!