Home
Authors
Posts by Connor Wilson
Connor Wilson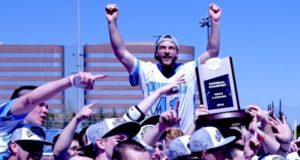 The season starts up on Feb 21st for a number of NJCAA Men's Lacrosse teams... the season is nigh! It's NJCAA Polls time!
The theme of this week's News And Video Explosion is the Lacrosse Motel. It's when you win a game, move to a new poll spot, and move out the next week.
Welcome to my personal Top 20, where I share my Inside Lacrosse Media Poll votes with the public! Why keep them private? That's crazy. The people deserve to know!
Loyola Vs Penn State was not a warm affair to remember, but it was a good game, with Loyola coming out on top, 8-6 after building up a 7-2 advantage.
Only one Top 20 team has a game under their belt, so it's the final opportunity for the D3 Report to offer up a 2015 D3 Lacrosse Preview!
Towson beats Hopkins... that's not a men's lacrosse headline many people were expecting to read, but last night it happened at Towson. Here's how.
Are these the best custom lacrosse gloves ever? You will ask yourself this question after you see these mittens in all their glory.
Welcome to the first installment of the JuCo Report for the spring season. I'm starting it off right with a Top 10 NJCAA Poll, in all of its preseason glory!