Home
Authors
Posts by Connor Wilson
Connor Wilson
It's really only week one of the 2015 lacrosse season and we have already seen a big D1 upset... And there's plenty more action to talk about!
On a cold and grey day down in Baltimore, Virginia beat Loyola 13-12 to open up the season for both teams. We have game photos, plenty of video, and some thoughts on what this means!
There is no media poll this week, so Connor is dropping his imaginary Top 20 on a down week to give you something to talk about! Duke and Loyola are down, Virginia and Marquette are up!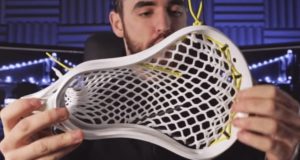 Did Throne Rip Off The AK Savo Pocket? The imitation or rip off game is ripe in lacrosse, but does this "Throne Rip Off" qualify as stealing?
A preseason lacrosse poll is a tricky monster. Are you ranking teams on how good you think they are right now? Is it just a list of last year's Top 20?
The 2015 College Lacrosse Season has started off on a very sad note so far, with three well known NCAA programs losing young men to bizarre, tragic, and confusing deaths.
The season has started... officially! Sure, some teams haven't started practice yet, but High Point and Delaware already have a game in the books.
I wasn't 100% sure as to what to expect from Rorke Denver's speech to the US Lacrosse crowd, but I knew it would have to do with two things: 1) lacrosse, and 2) the Navy SEALs.