Home
Authors
Posts by Connor Wilson
Connor Wilson
Last week we dropped the Double Traditional Tutorial on you guys, and asked you to send in Reader Submissions! We have already received a couple of submissions and these pockets are looking amazing!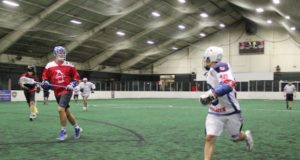 Proximity to New York City and Philly, a great facility, and some dedicated founders make the New Jersey Indoor Lacrosse League a league to keep an eye on, and maybe even join! You wanted box lacrosse, now you have it.
Stringing Patterns have plenty of upside, but there is also a downside to using a pre-set methodology for stringing your lacrosse stick. I tend to stay away from specific patterns, but I do use a lot of the same knots in the same places on different heads, and that is because of the pros and cons I'm going to list out inside!
The fall season is wrapping up for most D1 teams and that means video highlights from fall ball are starting to pop up left and right on the old internet. We scour the video services and websites available, compile a list of top quality D1 fall ball videos and let you have at them! It's what a good video explosion does...
The STX Hi-Wall is a classic non-offset head, but I don't just have a Hi-Wall today... I also have an STX Laser Hi-Wall, which is actually something different, in its own way. The STX Laser Hi-Wall came out first, and it's a follow up to STX's Laser Lite head, which had a slightly thinner sidewall.
It's NCAA D3 Vs MCLA Lacrosse time on LaxAllStars.com! We got had great highlight tapes submitted to us right around the same time, and it led...
Welcome to the Double Traditional Tutorial! This week's #TraditionalThursday demonstrates how to string the Double Traditional pocket and offers up some tips and tricks to make it easy. If you can string a single string traditional, you can string a double traditional... it's time to get to work!
The Path Less Taken can definitely lead to an end result of ultimate success, and it is an interesting concept, but there is also great potential for the Path Less Taken to be misunderstood, or misconstrued. The Path Less Taken isn't really a path at all... it's hacking your way through the jungle of life, and just trying to move forward.