Home
Authors
Posts by Connor Wilson
Connor Wilson
Welcome to the 2016-17 Ultimate Mesh Review! I go through some of the most popular mesh and tell you what's what with each product.
I'm all for Olympic Lacrosse. If I ran the world, the sport would be included in the games... but I don't. So how can lacrosse become an Olympic sport?
The international lacrosse rules used in most events are quite different from those used for NCAA, NFHS, or MLL rules. Here's one rule that needs to change!
I did an initial review of the Warrior Warp head, aka the EvoWarp, and now I'm back with more info on durability and THE FUTURE!
We put together a little slow-mo, violins playing away, filter-heavy EC16 video from the 2016 European Lacrosse Championships, because, why not?
Frank Menschner loved Radotín and lacrosse. Here's how his favorite small town in the Czech Republic might be changing the box game forever.
Africa Lacrosse is a hot topic for discussion, but what does the future hold for Uganda, Kenya, and their 7v7 lacrosse development model?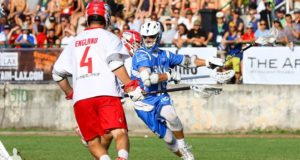 The 2016 European Lacrosse Championships are all wrapped up and we have killer highlights from the Gold and Bronze Medal Games, which took place...