Home
Authors
Posts by Connor Wilson
Connor Wilson
Groups have been announced for the 2016 European Championship!The European Lacrosse Federation will hold the 2016 Euros just outside of Budapest.
Welcome to Friday Franswers. You ask me questions, I answer them on Fridays. Franswers. It's mostly lacrosse stuff. Mostly.
2016 was a great year for women's lacrosse at US Service Academies! The first ever D1 Army-Navy women's game was only the start!
Tufts Lacrosse Head Coach Mike Daly dropped knowledge on NYC PSAL Coaches. Connor Wilson was lucky enough to take it all in. Now he shares the info with YOU...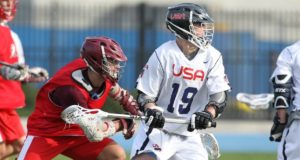 From July 7th - July 16th teams from across the world will compete for glory at the U19 World Games for men's lacrosse. Here's a look at the U19 rosters.
Haudenosaunee sovereignty is a long-standing issue, and it is currently jumping back into the mainstream news because of the WILC 2015.
Lacrosse.com asked me to string up a couple of heads with Player Pockets. The goal is a highly functional college and HS legal pocket for each head.
Kohta Kurashima is spending a year in New York City to play and coach lacrosse, and work on his English. He will be writing for LAS as well!