Home
Authors
Posts by Jeff Brunelle
Jeff Brunelle
One of the biggest names in lacrosse just launched his own equipment company, and his younger brother has joined his team to lead design. Powell Lacrosse Sticks, founded by Ryan Powell, now offers a full slate of products at PowellLacrosse.com. Find out why Ryan started the company and learn more about the new Powell Lacrosse gear.
101 photos from the 2nd annual Oregon Lacrosse Classic (OLC). Hosted in Bend, Oregon, by Rhino Lacrosse Company, this year's tournament featured 118 boys lacrosse teams, U11 through HS Elite.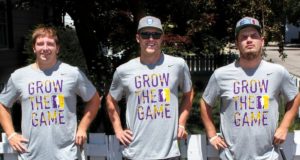 Receive a free commemorative WILC 2015 Grow The Game tee with your purchase of a Full Event Pass for the event in Upstate New York this September 18-27.
Syracuse coach John Desko effortlessly lists the many benefits of box lacrosse at a 2015 World Indoor Championships press conference. The World Championship will be held September 27th in the world famous Carrier Dome at Syracuse University.
Want to be one of the first to own this new @WolfAthletics x @LaxAllStars WONDERFUL WOLF TEE? It will be around at least 💯...
Chapter One: Life Isn't Black & White, It's Graphite - LaxAllStars founder Jeff Brunelle goes deep on life, art, lacrosse dyes, and his evergrowing love for the game.
If you're an avid lacrosse enthusiast, you likely already know how to easily pull off a stall. But can you do it 10 times in a row and then smack it home?
A midfielder for the 2014 MLL Champion Denver Outlaws and Team USA, Drew Snider truly loves lacrosse. Find out how he fell in the love with the game.