Home
Authors
Posts by Jeff Brunelle
Jeff Brunelle
Every now and then we like to team up with innovative companies to release limited edition apparel. Take our most recent collaboration with ViewSPORT, for example.
From Boise all the way over and up to Saratoga Springs, and then throughout New England, "East Bound & Found" explores Grant Koehl's unique journey as a lacrosse recruit from a non-traditional area and puts many of the differences between the fastest game on two feet in the East and West on display.
Exclusive interview with Steve Stenerson, CEO of US Lacrosse, the governing body of the sport in the United States, about the current state of...
In a hard-hitting, physical match-up between England and Israel, the England men's national lacrosse team came out victorious in overtime 10-9.
The Belgium national men's lacrosse team took on a storied Uganda squad in group play on Tuesday, July 12, at Dicks Sporting Goods Park in Commerce City, Colorado.
Game photos from the 2014 World Lacrosse Championships semi-final game between Team USA and Australia.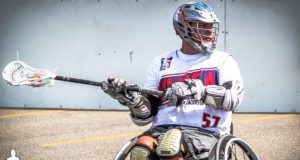 What follows are photos from a friendly matchup between two U.S. Wheelchair lacrosse squads. It was an honor and a pure joy to watch these guys play the game we all love so much.
In an intense, hard-fought match-up, the Latvia men's national lacrosse team defeated Team Thailand 14-11 on Saturday, July 12 during group play.