Home
Authors
Posts by Chris Rosenthall
Chris Rosenthall
Week seven of Major League Lacrosse was packed to the gills with underdog wins, highlight goals, 5 minute misconducts and more!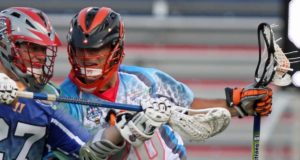 First things first: let's talk about the All Star Game. Then we talk Week 7. In case you missed it a few days ago, the MLL announced their All-Star team, a covertly assembled squad selected to take on Team USA at Harvard Stadium on Thursday, June 26.
Week six of Major League Lacrosse was filled with historic achievements and intriguing developments including the Denver Outlaws first loss in a long time!
If Charlotte is going to keep their postseason window open, they just might have to end The Streak. It's obviously a daunting task going against the Denver Outlaws, but the Hounds might just have what it takes!
Things are starting to shake out in Major League Lacrosse! It's a week 5 recap from the one and only Chris Rosenthall. New York, Ohio, Denver, and Rochester all picked up big wins!
And now, we're down to two: Notre Dame and Duke, the only schools to advance to the NCAA quarterfinals each of the last five seasons, have earned the right to play on Memorial Day. Chris Rosenthall provides his thoughts on the weekend, attendance, TV, hatred for Notre Dame, and so much more! It's an insider's view!
The Outlaws saw another challenger climb to the mountaintop, then promptly booted them down the slide like a department store Santa. The Hounds tried to beat the Cannons for the first time in their relatively short history, the Machine looked to do the same against the Lizards and both were denied. The more things change, the more they stay the same, right?
Ah, week four - the Mecca of MLL overreaction. We're weeks away from actually sealing anyone's fate, but (and I'm pretty sure I said the same thing last year) man oh man, 1-3 looks so much worse than 2-2, and this season, five teams find themselves teetering on that very precipice, staring into an abyss of no return. Okay, that may be a bit overdramatic, but this part can not be overstated: if you're 1-2, right your ship ASAP, or you just might get left behind.