Home
Authors
Posts by Chris Rosenthall
Chris Rosenthall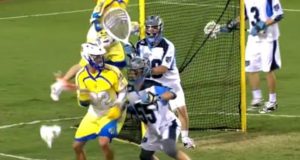 For a second there, it looked like things were headed back to business as usual and this whole "parity" thing was on its way out. Well, about that: After week three, five teams are sitting at 1-2, the teams that met in the 2013 Championship are at the bottom of the pile and once more, the league has turned us all into a bunch of season three Jon Snows, reminding us on a weekly basis that we, in fact, know nothing. Is it time to accept this as our new reality? It just might be.
Your favorite college team's loss (or bunch of losses, poor strength of schedule, whatever) is your favorite MLL team's gain, and it all starts this weekend.
After only two weeks of play, Denver stands alone atop the leaderboard. The Outlaws are the only undefeated team in the league, as opposed to last season, where three teams saw the 3-0 mark, and the Nationals and Outlaws made it to 5-0 before having to square off against one another. Meanwhile, the Charlotte Hounds are camped out in the 0-2 basement, and the rest of the league is sitting at 1-1.
The first week of the MLL season provides a perfect opportunity to take any old observation and run way too far with it. Chris Rosenthall is back covering Major League Lacrosse like NONE OTHER!
Chances are you haven't heard the actual song, so here's a quick summary: you've got some auto-tune, a bunch of profanity, DJ Khaled yelling his own name for no reason, and a mediocre, mass-produced beat... you know, pretty standard stuff for the pop rap music of today. Then of course, you have Jay Z's verse, which has triggered a firestorm of outrage throughout the lacrosse community.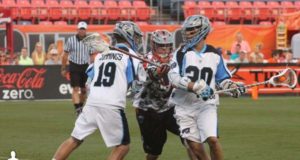 Ladies and gentlemen, once again, it's on. It's time for the 2014 Major League Lacrosse season to begin. Which team will end up in Atlanta four months from now, hoisting the Steinfeld Cup and doing the Nae Nae or whatever it is they're doing in Atlanta four months from now? No idea whatsoever, but it's time to find out, so let's start things off with a team-by-team season preview.
No more of this either or mess, as the LXM and MLL have finally come together to unify professional field lacrosse. Time to let a player play; if you can cut it, you can take your services to both pro leagues, just the way it should be. Rosie drops his thoughts on the new situation.
Shortly after the MLL collegiate draft wrapped up, Connor Wilson tossed an interesting suggestion my way, one you pretty much never hear from website editor: Wait. That's right, instead of posting a wrap-up piece the following day, he wanted me to take some time, check out each team's picks in both drafts, add in their various offseason moves and try to get a better idea of what these teams are working with at this point of the offseason.