Home
Authors
Posts by Chris Rosenthall
Chris Rosenthall
Have we reached the point where the good and bad teams begin to sort themselves out? Is it already time to separate the pros from the cons, the platinum from the bronze (that might make sense in a moment)? The schedule says no, but some of these results argue otherwise.
It's a total coincidence, but three of this weekend's matchups were listed amongst the most interesting games of the year. The one that wasn't...
The Cannons tried to stay undefeated in Denver, the Hounds sought to ruin Rob Pannell's homecoming party, Hamilton battled Chesapeake, and the Machine look for their first win of the season against Rochester. What happened?
With no more NLL or NCAA, everyone's on board for this week's games. It's Boston's streak vs. Denver's, Rob Pannell's NY debut, and Hamilton's toughest challenge yet in MLL week 5.
Chris Rosenthall puts together a list of all the MLL games you should circle on your calendar. These are THE must-see games of the 2013 Major League Lacrosse season.
Rob Pannell's career comes to an end, Syracuse wins another nail-biter, and Denver benches their goalie no matter what.
Undefeated Hamilton visits Ohio for the lone MLL game of the week. With a highly-touted draft class now in place, can the Machine pull off an upset?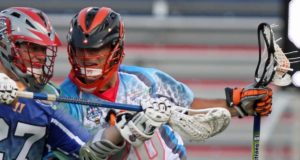 The Cannons snap their streak, the Outlaws keep rolling, and FOGOs are the most important people on the field.