Home
Authors
Posts by donahueref
donahueref
We've got TWO full weeks of NLL action to get you caught up for the weekend! Get ready to ooh, ahh and lol, lacrosse fans!
Editor's Note: Thanks to the help of the innovative team at SISU Guard, the Official Mouthguard of the NLL, we've beefing up our National...
There's 4 games, between 7 teams, over 2 days this weekend. Our eyes our set on the Knighthawks visit to Saskatchewan, here's why...
Mason Powell brings us into his world for what he calls a lazy Stick Trick Saturday.
Hoping to carry on the wave of excitement from the last Game of the Week, the Buffalo Bandits head to Georgia to tango with the Swarm on Sunday.
NLL Week 6 saw a rounding of the stats sheets, as all but Toronto are making a real run at the season.
Holy moly! Week 5 produced a plethora of NLL Video content for us to dig into, so let's do it!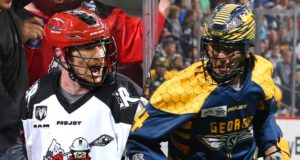 After Week 5 redeemed the blowouts of Week 4, our hopes are high for the Georgia Swarm visit to Calgary this weekend.