Home
Authors
Posts by Jumbo Jack
Jumbo Jack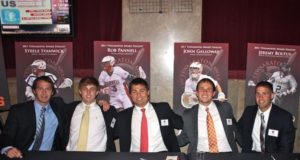 Jumbo Jack represented LAS at the 11th Annual Tewaaraton Award Ceremony. Check out his recap and some great photos by Brian Kapur!
Jumbo Jack fills us in on MLL Championship Weekend in Annapolis.
Jumbo Jack interviews Team France head coach Billy Tauzin.
Jumbo talks about the firing of Murle Greer and how other MCLA teams can learn from GVSU's mistake.
Jumbo Jack answers Connor Wilson's challenge to share all that is desired.
Jumbo Jack dives into the legal ramifications of brain injuries and sports. What kinds of policies are being created to try to keep athletes safe.
Jumbo Jack breaks down one of his favorite days of the year and talks about all the influential Irish lads in the game of lacrosse.
Resident Lax All Stars legal counsel and all around political insider, Jumbo Jack, pens an open letter to the members of the Lacrossocratic Party, telling us what we should focus on and be wary of in 2010.