Home
Authors
Posts by Connor Wilson
Connor Wilson
How Hard Is It To Play College Lacrosse? It's a fair question, and one I get asked quite a bit. The short answer is: it's hard. Read on for the long answer!
The Mohawk Manufacturing Company was a huge name in lacrosse back when wooden sticks were the only available option, and over 40 years ago you could buy one in a hardware store for about $8 pretty much anywhere in Ontario.
US Lacrosse just recently announced that John Danowski will be the new Head Coach for Team USA, and from where I'm sitting, it's a fantastic selection.
The new Epoch Lacrosse head is called the Hawk Sequel, and it has a lot of the same characteristics as their original head, the...
The MLL has announced its 2016 Schedule, and from the end of April until the end of August we are going to see 63...
Jack Sandler passed away on Thursday night of an apparent heart attack, and lacrosse teams across the Northeast are in mourning.
November Lacrosse is not like April lacrosse, where everyone is doing everything, but there is still enough lacrosse video being produced out in the world to create a killer November Lacrosse Video Explosion!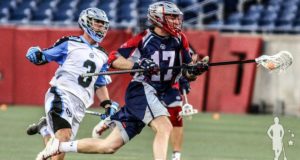 The Atlanta Blaze picked up their first crop of players during today's Major League Lacrosse Expansion Draft. I LOVE expansion drafts!