Home
Authors
Posts by Connor Wilson
Connor Wilson
What are some of the risks of creativity, how can we counteract those risks, and where does creativity fit into the sport of lacrosse?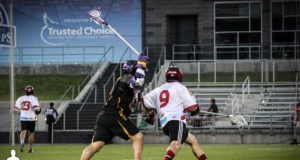 Welcome to the 2018 Takeover Edition of our weekly Lacrosse News And Video Explosion! Mixed in with all the interesting news stories and random videos of the week, we have a couple of impressive 2018 prospect highlight tapes.
Today we're looking at a unique Razer 2.0 head from Warrior Lacrosse! It's a special ESPNU dyed Razer, so it's getting a special pocket in today's episode of That Old Lacrosse Head!
Which one hand goal was better? This is question that burns like an eternal flame in my mind, and I NEED to know which goal is better. Yes, they are obviously both amazing, but one has to be better than the other, right?
How to break in your pocket has long been a topic of much debate, as well as confusion. There are countless methods and tips and tricks are scattered all over the internet and by word of mouth. What works, what doesn't? Who knows. Until now!
Dealing with bad weather in lacrosse can be tough for a couple of reasons, especially during the winter months
The Iroquois Nationals put up an Iroquois Locker Room Video from this Summer's World Lacrosse Championships and it's really kind of amazing! So there is a lightning delay? WHO CARES? We're going to have a good time in the locker room instead! That's the winning attitude right there!
Welcome to the Miles Thompson edition of our Lacrosse News And Video Explosion! But it's not ALL about Miles Thompson... there is plenty of news and video for everyone. More than enough to go around!