This was only the second year that The Morey's Pier Beach Lacrosse Tournament has been in existence, and it just so happens to be right in my backyard of Wildwood, NJ.  And after the weekend I've definitely realized something: Level the land where you're going to set up your tent on the beach, don't forget your pillow (that way you don't have to use your duffel bag as a pillow!), and I will attend every Beach Lacrosse Tourney I can until I can't lax no more. You can also bet that the LaxAllSharks will be competing for the hardware every year!  It was a good time!
The whole day I was just counting down the hours until I could leave for camp, before heading even further South, down to Wildwood. We still did not have our uniforms in yet. I was a little nervous.  But I got a case of back up shorts the company sent us early that morning just in case the uniforms weren't there the next day for the tourney.  Solid service right there!
I also made sure to pack my GTG shirt and my Man Bros… what else would I need?
I packed up the 'stang with some gear for the Lax Evo laxers for their last day, my tent and anything else I needed for the weekend.
First night was a bit hectic. I had to leave the last day of the Lax Evo Stone Harbor camp a bit early to get to the Wildwood Convention Center to check our team in and then set up my tent before the sun went down. When I arrived at the convention center it seemed a bit more hectic than usual. A dance/ cheer competition was going on inside the center as well as the registration for beach lacrosse and beach soccer. Let's just say there was a lot going on at the shore that weekend.
After I parked my car I carried as much stuff as I could possibly carry and went hunting for my spot on the beach. I found a nice scenic spot and began to work feverishly and with a bit of help from my neighbor, Caesar, who was in the beach soccer tourney, I set up camp by sun down.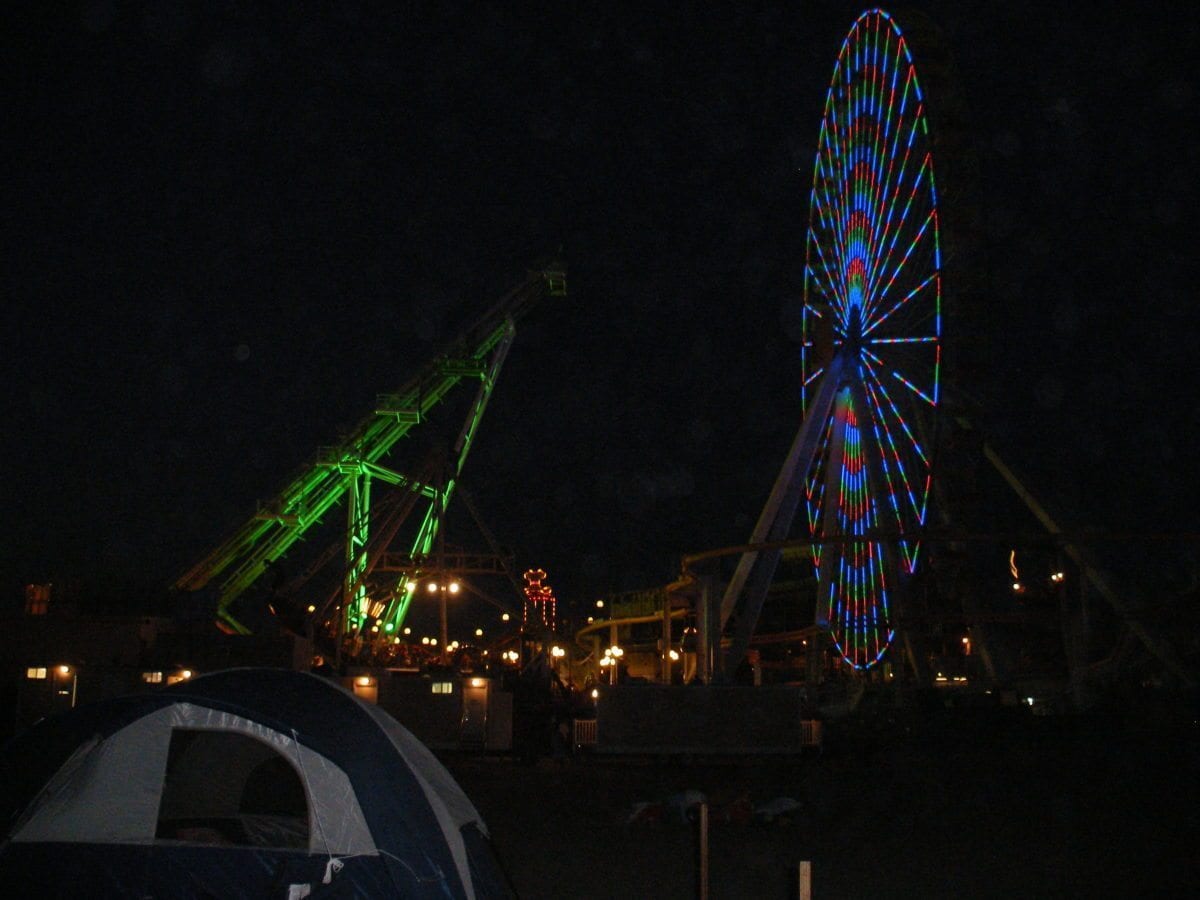 After camp was set, a few teammates and I walked the boards for awhile. Highlights of the night included 1 rollercoaster ride, dollar store flip flops, and Collins' over the top celebration for winning a Simon doll from Alvin and the Chipmunks in a crane game. Fun night before a competitive weekend of lax.
So when I got back to my tent that night I realized I had made a huge mistake… I forgot a pillow. So after watching hours of man vs. wild I swam out into the ocean, hunted down a dolphin and cut up/restitched him into a nice pillow. Orrrrrr I just used a duffel bag and a towel. Also naive old me disregarded my teammate's suggestion to level the land before setting up tent and I paid for that in the morning. After being awoken by a boat horn (you heard right) at 7am I got ready for the day, had breakfast and then checked out some of the early games.
But before heading over I checked out some of the tents such as sportstop.com's swagged out trailer with about every piece of equipment you could want (heads,shafts, handles, custom stringing etc) and even the Philadelphia Wings had a tent set up.
I walked over and caught the end of a boys game which resulted in a fist fight before the coaches pulled them apart. I was a bit curious as to whether or not this as gonna be a constant theme but the rest of the weekened was full of sportsmanship and tons of fun.
After that game I was treated to SPF lacrosse (young division not sure which one exactly.) absolutely steam roll the other team. Very talented kids putting away tons of goals.
At halftime I took a trip over to watch a friend from high school compete in her girls' game. I was a bit figgity though, still anxiously waiting for our uniforms to arrive. The girls' game ended and honestly both teams acted so excited and celebrated that I second guessed the scores for a second. Great sportsmanship by both teams. Finally I got a call saying our unis were delivered down the street to a hotel so I quickly darted down the street to get them, were they worth the wait?
All in all it was a very successful weekend. We all had a blast and have all agreed we'd be back next year and would take another shot at the championship. We went 2-2 and played some very skilled teams, all of whom were also great sports and fun to talk to before and after the game. Just a great environment to be in and to play lacrosse… right in my backyard basically. It was tough at first just to get used to the game play between running in the sand and just getting back after a goal because the opposing team would start up right away.
Regardless of each game's outcome, we could play fair games while having friendly chats with our opponents. We played everyone from high schoolers to Lynchburg Laxers but regardless we had a fun playing against each team.
This was only Beach Lacrosse's second year in Wildwood but I highly recommend you consider fielding a team for next year. Great way to bond with teammates and if laxing on a beach wasnt enough, you also get wristbands that give you full access to all of Moreys Piers Parks so you can also have fun on and off the field. Waterpark was a great way to end the heat plagued weekend.
Big Thanks to all our sponsors, LacrosseAllStars, Premier Gear Sports and Edible Arrangements. We couldn't look as good as we did without you.
And a big thanks to Richard Ta for taking sick action shots for us the first day. If you wanna see the full album which has 348 photos of pure LAS sexyness  then click HERE! Kids got talent!
Let these next few photos entice you.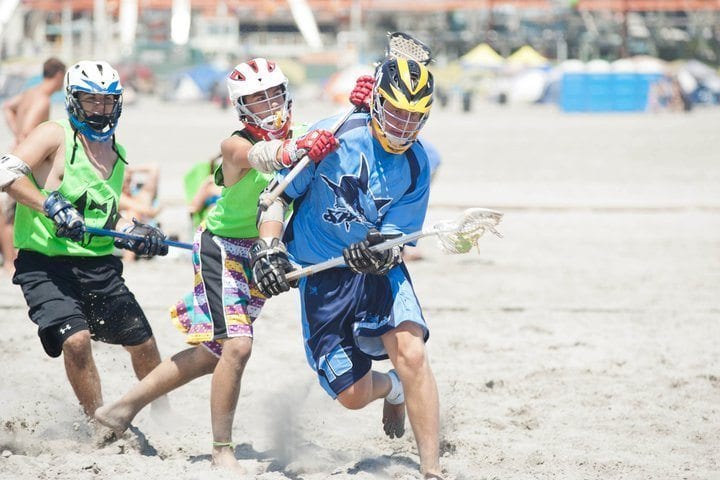 Come on…you know you look at the full album of LaxAllSharks at Beach Lacrosse 2011.
Just like the Woozles were here to stay, you can count on that. So do us a favor and like us on facebook. I got some extra laxallsharks gear that I dont know what to do with, I'm thinking a giveaway or two? Anything that's left over from the giveaways we may sell to help grow the game. So head over, post to say hi and keep checking back for updates on the contest. We need to see some more fans before we start giving away stuff. Also feel free to let us know where you think we should compete next summer, if you wanna see some apparel for sale or any other things you have to say, WE WANNA HEAR FROM YOU! Thanks for reading guys!