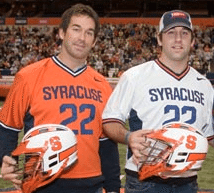 Back in 1998, Sports Illustrated published an article profiling brothers Casey Powell and Ryan Powell as they led Syracuse University toward another successful lacrosse season. The article, written by Seth Davis and published in the May 5th issue, provides a great insider's look at how both brothers inevitably came together to play at Syracuse and chase their dreams.
Below you'll find a brief excerpt of the article, followed by a link to the full thing in the SI Vault, plus a couple must-see throwback Thursday photos of Ryan and Casey. Shout out to the Rhino Lacrosse on Facebook for the article tip!
Casey and Ryan Powell fought constantly while they were growing up. That is what brothers do. There was the time Casey pushed a totally dressed Ryan into a bathtub full of water because Ryan was going to wear Casey's jeans to school. Then there was the day Ryan chased Casey up the stairs, ripped off his older brother's shirt and landed a few solid blows. "Probably the greatest feeling in my life," Ryan says. Last fall the brothers were guarding each other during a pickup basketball game in a gymnasium at Syracuse, where they are standout attackers on the Orangemen's tournament-bound lacrosse team. Ryan fouled Casey, Casey fouled Ryan. Shortly thereafter, their teammates were pulling them off each other.

Sitting in an office adjacent to Syracuse's lacrosse practice field, the brothers recount their litany of bruising sibling battles, laughing themselves silly. "One time we were playing in a peewee baseball game," says Casey, who is two years older than Ryan. "I was the pitcher and he was the catcher. I was pitching really badly, and we were yelling at each other for four straight innings. Every time I threw a bad one, he'd be like, 'Nice pitch.' "

Ryan can hold his tongue no longer. "He tried to throw a curveball, and it sailed over the backstop," Ryan says. "I just fell on my knees and started laughing. He throws down his glove and goes, 'I'm not pitching anymore.' When we came off the field after the fourth inning, we got into a fistfight. Our dad was the coach, and he had to step in."

Welcome to the best one-two punch in college lacrosse. Casey, 22, a senior, is leading the nation in points scored (goals and assists combined) with 5.8 per game and is a good bet to win his second consecutive player of the year award. Ryan, 20, a sophomore, is No. 2 in the nation in points (5.2 per game).