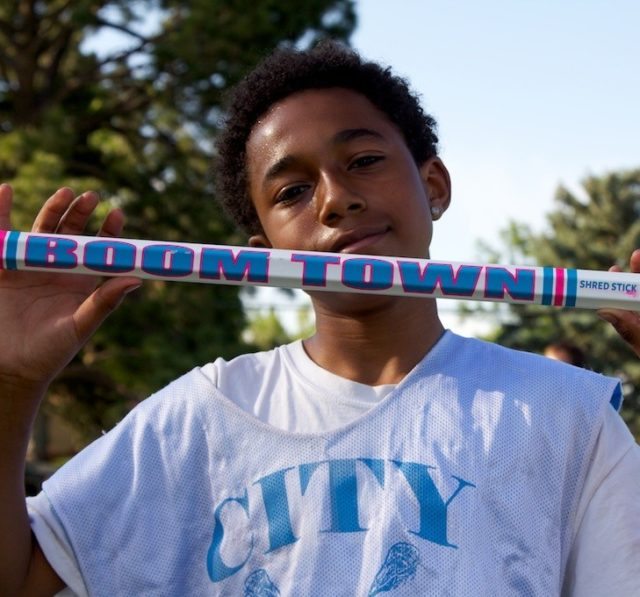 The idea for a 1 for 1 program was made famous by Tom's Shoes, and the idea is simple. Every time you buy a pair of Tom's, they give a pair of shoes away to a person in need. Well, now the lacrosse world has their own version of this program, and it's run by Boom Town Lacrosse and Connor Martin. Of course it is!
The program actually kicked off a while back (see the announcement on LAS here) and now Boom Town Shred Stick sales have given the game of lacrosse to 23 new, and very much deserving, lacrosse playing kids in Harlem and Denver! That's 46 sticks in total! It's Game Growing in action!
We got the chance to catch up with Connor Martin earlier this week to get some additional details on the program, and why they're doing it. Connor dropped any pretense of CBC and got right down to business when we asked him for a little more on the why…
"With Boom Town's the For The Kids Program we are just trying to start on the right foot. We wanted to make sure we didn't wait until our camps and tournaments were firing to find a sustainable way to give back to lacrosse. We want to avoid ever saying to ourselves, 'I'll start giving back and trying to grow the game as soon as I have enough money to comfortably give some of my time and business away'. We just want to get in the habit now before it's too late. We've all seen what Tom's Shoes has done and it's a great model to implement in the lacrosse world. Responsible business is so hot right now."
True. Responsible business is hot right now, but it also seems like an integral part of our community's quest for growth. It wasn't a total surprise that Martin felt the same way:
"We think giving sticks to kids who can't afford them or have never been exposed to lacrosse is the best way to start growing the game. So we made this Boom Town Shred Stick w/ True Temper and have sold enough so far to buy 23 starter sticks for Denver City Lax and the Harlem Lacrosse and Leadership Organization and already have to choose another organization. It's working, it's sustainable, and we're hoping a couple of those sticks change a few kids' life."
I then asked Martin a pretty obvious and seemingly simple question. Why are you trying to change a few kids' lives? What is the real driver there? It was no surprise that he then quoted one of Brett Hughes' favorite quotes (giving Mr. Hughes credit of course!) by saying:
"'Service to others is the rent you pay for your room on Earth'. We think we're just paying a little rent so we can keep having fun. Hey lax world, help hold me to it!!!"
I don't think we could have said it any better ourselves! If you want to get involved with Connor Martin's Shred Stick program, check out their page, and if you want to get involved in our Grow The Game Tour, we ask that you check out our page on Indiegogo.com! We know you'll love what you see!