The third season of New York City box lacrosse kicks off in less than a week, and there is still time to get involved, sign up and play! The last two years have provided a great box experience, and a couple of former players are now going to be balling in the NALL. Want to take their spots, and perhaps be the next guy to make it to the next level? Sign up to play…
Players can sign up as Free Agents, or if you want to play with team LaxAllStars.com, you can always do that too. We're still looking for a couple of guys (especially lefty forwards) so have no fear and join the fray. We've won the league the last two years, but I'm thinking 2013 could see a new champion emerge. We'll fight our hardest to keep it from happening, of course.
Yes, we play outside on concrete. Yes, it is during the Winter. But we are yet to see any major injuries, and the colder weather is actually pretty nice when you consider how hard you're playing, and how much padding you've got on. The rink we use is low on the Island of Manhattan (96th St and 1st Ave) so the wind is never blowing very hard. Our ref (Bob Boniello) is top notch, and the vibe is friendly… at least for a box lacrosse league!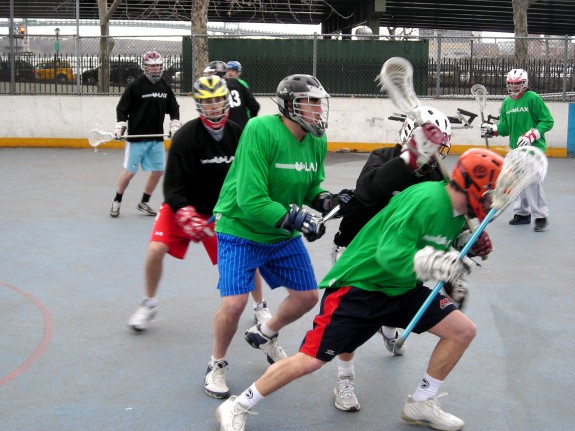 Come and learn the game if you don't know it, or come impress us if you think you've got what it takes to shine. Box lacrosse is here in NYC. Make sure you take advantage of it.