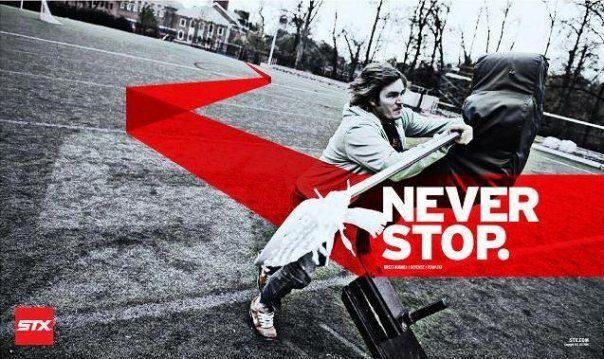 Editor's note: Today we announce a new contributor to LaxAllStars.com: MLL All-Star Brett Hughes. A former UVA All-American, Brett currently plays longpole for the Denver Outlaws, runs the lacrosse division of ESPN RISE and represents Team STX. He is also Co-Founder/Director of Lacrosse The Nations, a non-profit organization using the universal language of sport to bring hope and joy into the heart of impoverished communities.
Each week in the "Brett Hughes Vs." series Brett Hughes will tackle a single topic that he thinks deserves some noise in the lax world. First up, College Football.
_________________________________________________________________________________
What's up everyone? I get an opportunity to talk about a few things on my mind every week, and I cant think of anything bigger right now than college football. (Well thats not entirely true… but it feels like it doesn't it?) When I look at college football, which I absolutely love, I see a few things that I need to attack and applaud.
Number one… as an Ohio State Buckeye fan I have to say it: I would have hoped Terrelle Pryor would be further along in his growth as a college QB. They have the recivers, they have the defense, the running back is pretty good… The problem is simply that #2 is not growing up. He is the best athlete on nearly any field, but he looks afraid to get hit when he scrambles. Yet he doesn't have the pocket awareness or arm strength to sit in and go through his progressions.
All-in-all, it's a bummer becuase we need a QB to step up – the other pieces are waiting for him. I think Jim Tressel may need to open up the playbook and challenge him a bit more becuase what they are doing right now can't work if they want to win a BCS Bowl. "Tressel Ball" is not what anyone wants to see from the alleged most dynamic athlete at QB in the country.
I also need to mention how much I miss the great defensive players from years past. It seems like there are no hitters anymore. No guys like Andy Katzenmoyer, Roy Williams, Antoine Winfield, Junior Seau, Troy Palumalu… Now this is not to say that there aren't athletes on the defensive side of the ball, but the shift to west coast offense and getting players the ball in space leads to more "catching" as opposed to meeting head on.
As one of our Football Analysts at ESPN, Brandon Hancock, pointed out, "The shift in the passing game has made the game softer." Teams recruit for speed more than size these days and most of the time the biggest hitters are safeties. This is why NFL and NCAA are so very different. Nothing against someone like Ray Lewis (who's one of the most feared players in the NFL) but he may need a moped to keep up with the college game.
That said, if you want to see guys lay the wood it still happens – just not nearly enough. These guys can all lay hat: Taylor Mays (USC), Eric Berry (Tennesse), Rennie "Busting Heads" Curran (Georgia), and Greg Jones (Michigan State).
Now what is money about college football: College Gameday with my boy Kirk Herbstreit, Fowler, and Corso. That show is the best in sports. It's funny, smart, and most of the time they don't take it too seriously. It's just a show of opinions and they give us inside looks at the teams we all want to hear about. And come on, Corso putting on a mascot mask every week is classic!
Alright, lets drop a top 5 on everyone…
Top 5 Things I LOVE About 2009-2010 College Football:
5. Oregon continuing to get hooked up by NIKE with crazy but sweet uniforms.
4. Tim Tebow just manning up every game and putting on the super man cape.
3. NCAA 2010 by EA Sports PSP for plane rides is money. (Until your power goes out when you have the #3 team on the ropes in dynasty mode.)
2. Former Elite 11 standout Jacory Harris growing up for the U and bringing them back. Even if you do not like them, it's good to see them back!
1. Once again, College Gameday every Saturday on ESPN. Can't miss it!
Stay tuned next week for another Brett Vs. and make sure to drop us a line if you have a topic you want Brett to tackle.