Lax filled weekend in Louisiana. The game of lacrosse continues to grow. Teams continue to get better.
Day 1: LSU vs Bama
We kicked off the weekend with some lax on Friday night by cancelling practice a little early to make it out to the LSU vs Bama game. Anytime LSU squares off against Bama (or Florida for that matter), people go nuts, even if it's a quidditch match.
There was no way I was going to miss this game. Sure, Dutchtown had a huge game the very next day, but some things are more important. Going to LSU games is fun, and we can't forget that lacrosse is supposed to be fun. That's why we play sports after all, isn't it?
I didn't take any pictures of the game (I believe Barry Spears did, so keep your eyes peeled!), but I did bust out the iPhone 4 for some film. Dig it!
Somebody else took pictures of the game. Check em out here.
The most impressive part of the game on Friday night was the crowd. Easily 150 people were in attendance, sitting on all sides of the field. In what was probably the largest crowd in attendance to an LSU lacrosse game, fans were going absolutely nuts cheering for the Tigers. They even did a very traditional chant where one side of the field screams "GEAUX," and the other side responds "TIGERS." Example:
Despite the fact that the Tigers lost 15-10, LSU still played Bama a lot closer than Bama was probably expecting. The game remained within LSU's grasp for all but the final minutes of the game, the crowd helping give the Tigers one hell of a home field advantage all the way.
I also got my hands on some LSU lax gear after the game – more on that to come in the next couple weeks. Let's just say Nike is #1 for a reason, shall we?
________________________________________________________
Day 2: Dutchtown vs Gulf Breeze vs St. Paul's School
I spent the entire week stressing about this St. Paul's game. This game had huge playoff implications. By now, if you've read laxpower or WestSideLax, you know how this story ends.
In our previous match up, Drake Arnold and JP Meibaum stole the show, something they usually do in every game. They're both tremendous athletes that I was convinced comprised their entire offense. How wrong was I. My sincerest apologies to Christian Voelkel, who tallied six goals on us, most of which came in the first few minutes of the game.
Shock and awe. What is one of the easiest and most fundamental things to defend in the entire sport of lacrosse went completely overlooked this week as we focused on how to defend two of the stronger players in the state. A mistake that I as coach will never make again.
That game is over.
It's in the history books, and despite how much I hate history, there's nothing I can ever do to change it.
When my players are 25 years old, they'll be able to log in to the LaxPower archives and reminisce on their season (something I do from time to time). This game will be a scar on 2011 – something I fault myself for.
Like I've already said – there's nothing I can do to change it. We can, however, move on and focus on the next opponent. We can defeat every opponent left on our schedule. The rest of the season is not fate – it's our destiny.
We have Catholic this weekend, at Catholic's house, and despite what the power rankings say or what people are telling me about them, I KNOW this team is going to come out ready to punch us in the mouth. Time to focus, and get angry. This is a big one.
On a side note, a new JV and Middle School sqaud out of Pensacola, FL was able to crash the party on Saturday. Check out highlights from Gulf Breeze (Blue) vs St. Paul's (White)! Yayy Growing the Game!
Not sure how the Gulf Breeze vs St Paul's games turned out, but Dutchtown JV squeaked by with a win over Gulf Breeze, 4-3.
________________________________________________________
Day 3: LSU vs Baylor, LSA conference game
Sunday morning will forever be in my memory as the "day after the St. Paul's loss." After an LSU loss to Bama on Friday, and our loss to the Wolves on Saturday, I needed something to go my way on Sunday.
Here are some fancy photos of the game
In front of a crowd of about 50 people (not bad for a Sunday morning game), LSU was able to come from behind in the fourth quarter to earn their first "W" of the season.
Jordan Ramirez, freshman attack out of Brother Martin HS in New Orleans, had a crazy good game. Mitch Rogers, freshman goalie out of the same school, shifted into overdrive in the second half, making some of the most clutch saves in lacrosse. Jake Most also had a great game, but that's not too surprising.
_________________________________________________________
We take on Catholic this week. Time to regroup, and focus.
LSU takes on Ole Miss, Auburn, and South Carolina, all at Ole Miss.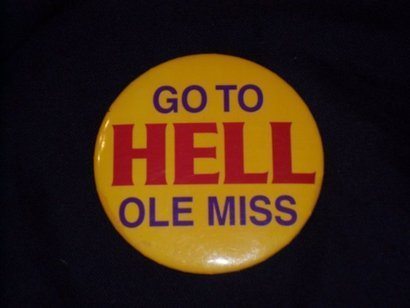 I think we can all agree that burnt orange helmets would have been better for the Longhorns.
My commentary: Sunday's game on ESPN is proof that Notre Dame would have won the championship game last year if they had had Pro 7s.