CityLax, a large not-for-profit volunteer group that focuses on growing the sport of lacrosse in NYC, held their annual fundraising Gala just over a week ago, and they got a great turnout, and raised a ton of money, which will go towards supporting lacrosse in New York City public schools. In fact, they even broke a couple of records!
Over 400 people attended the event in person, and many more made donations of goods for an auction, or cash. In the end, CityLac raised just over $315,000 surrounding the Gala, and the efforts of the Gala Co-Chairs, to make the event a complete success, can not be overlooked. Kathleen Coughlin, John Moser, and Damon Pazzaglini made this year's Gala the best yet, and helped set records for both attendance and the total amount of money raised.
Eamon McAnaney, of ESPN fame, MC'd the night for the 4th consecutive year, and was once again entertaining, informative, and very well received. There were also plenty of current pros in attendance as Max Seibald, Billy Bitter, Mike Leveille, Stephen Peyser, Ramel and Shamel Bratton, Laura Zimmerman, Ashby Kaestner, and Grace Golden all dressed up for the night. The crowd was made up of a veritable who's who of the NYC lacrosse scene, and some members of US Lacrosse even made the trip up from Baltimore.
There was a special focus on Columbus HS, in the Bronx, and the crowd offered thunderous applause when members of the team took the stage.
Brandon Velez, a Columbus graduate who play with LaxAllStars now in NYC, had this to say:
Being introduced to the sport lacrosse at Columbus HS through CityLax has improved my work ethic in school and out on the field. It has opened many doors for me. This is why I continue to play the sport at the College Club level and give back as much as possible to my high school through CityLax's free clinics. Hopefully, others who come after me are able to gain this experience as well. On behalf of my teachers, coaches, and teammates, thank you for giving me this opportunity.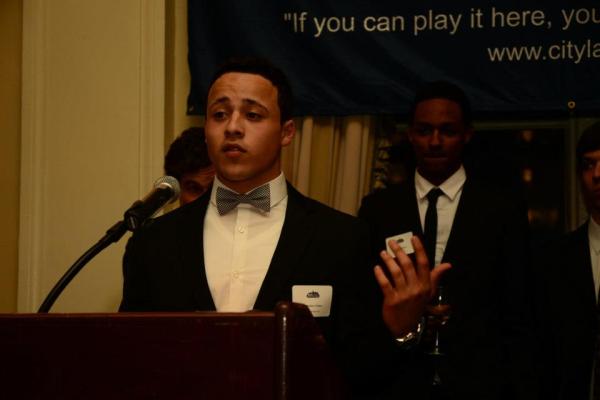 Before the Gala really kicked off for the night, CityLax proudly inducted into its NYC Lacrosse Hall of Fame 2 more members: Jim O'Brien, a former Princeton great, and 7-year CityLax volunteer coach and member of its Junior Advisory Board, as well as John Murphy, the current Commissioner of PSAL Lacrosse and the architect of PSAL's recent expansion.
Not resting on their laurels after a record-setting Gala, CityLax volunteers went out to Randall's Island the very next weekend to assist teams in need during a day of PSAL preseason scrimmages. After raising a record amount of money, CityLax got right back to giving something just as valuable: time.
For another Growing the Game story, check out Video: Teach Us How To Play OUR Game
Photo Credits: Renzo Spirit Buffalo
Editor's Note: I am the Publisher of LAS, but I also volunteer with CityLax. I think it is important to know that when reading my article.