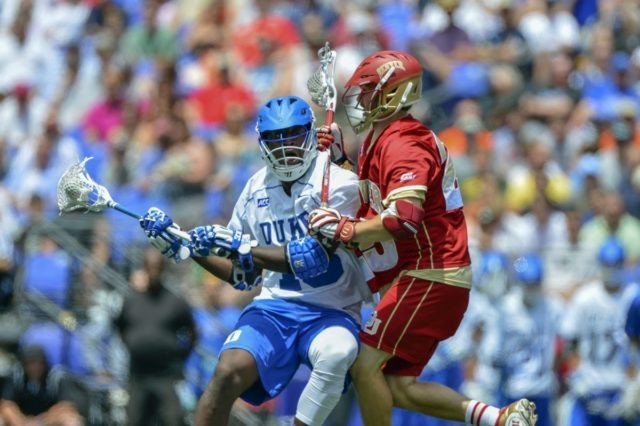 The Rules Committee for NCAA Lacrosse is meeting this week and that means the college lacrosse shot clock debate is relevant fodder for editorializing and conversation wherever lacrosse is played or consumed. While I'm not a huge believer in the shot clock myself, I can certainly see why it is an attractive option to many in the lacrosse world, so let's take a look at all the different influences on the shot clock debate.
Who Wants A College Lacrosse Shot Clock?
There are plenty of vocal proponents of a shot clock, and Inside Lacrosse seems to be the loudest of them all. From writers like Quint Kessenich to their Editor John Jiloty, to articles on how many coaches in the NCAA want a shot clock, IL is all over it. Another big part of the push has come from many of the MLL announcers (Quint included) and proponents, international announcers, and others in lacrosse media.
As IL has reported, there also seems to be a strong desire for a shot clock from the college coaches. Not every coach is on board, but many support some sort of consistent device to keep the game moving. I also think a number of current players would like to see a shot clock, and this can be true for a number of different reasons. Offensive players like that shackles of over-coaching could be thrown off, defenders like the idea that offenses can no longer extend and hold the ball. D-mids are probably excited that they could see a couple more offensive runs!
And just like the players, I think a lot of fans actually want to see a shot clock. The stall warning was long broken, and the timer on solution did not satisfy as a solution. It was inconsistently applied (the stall always has been) and far too subjective for the modern lacrosse enthusiast to get behind. I think the idea of a shot clock stall had potential, but an effective middle of the road solution would have required additional seasons/time to iron out, and according to public opinion, this was something that needed to be fixed now.
Basically, a LOT of people are in favor of the shot clock in college lacrosse, and I'm very well aware that I sit on the outside as an opponent of the idea for the college game.
Possible Shot Clock Configurations
If a shot clock does come in to play in college lacrosse, what will it look like? Will it start after a save/turnover? Or when you cross the midfield line? Will all of the other clearing clocks, etc, disappear from the game? Will the shot clock be 60 seconds? 75? 90? 120? I have no idea. Multiple iterations have been experimented with, and we could continue to see additional trials.
If I had to guess what path the Rules Committee might take if they adopt a shot clock, I think they would go for simplicity. The stall was always painfully relative, and potentially confusing, so hopefully they want to get away from that. The simplest way to create a shot clock is to say that any team has ____ seconds to get a shot on cage (save, goal, pipe) once they gain possession of the ball off of a save or turnover. With this move, how many seconds are given becomes incredibly important.
Another option is a cleaning clock, and then a shot clock that starts when team passes midfield. Either way, it would be a simplification of the current structure.
A "Quick" Shot Clock
60 seconds is what the MLL uses, and you see some of those teams run two-way middies from time to time, but more often than not, you still see a majority of offensive and defensive specialists. FoGos still exist, and so do LSMs. The game has not intrinsically changed all that much, and even with small rosters, we still see plenty of specialization. I can't see the NCAA adopting anything faster than what the MLL uses.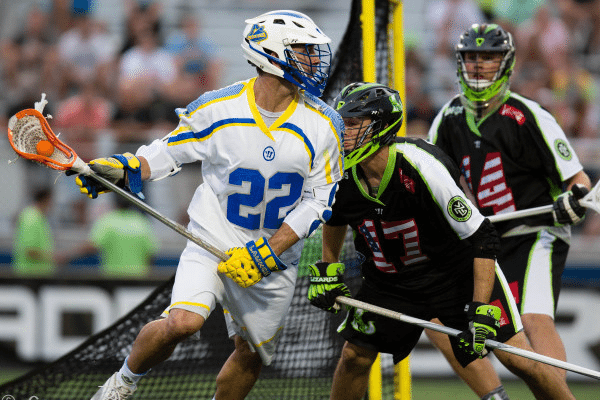 With all of the above being said, allow me to remind you that these teams also only practice once a week together. College teams practice 6 days a week and produce a better, more organized on-field product. Will college teams be able to organize and get players on and off with a 60 second shot clock? You bet. They might be a little rushed early on, as MLL offenses look from time to time, but 60 seconds is more than enough time, and my guess is these guys will be masters of control in no time. Anything longer than that, and the game won't change much at all, except truly slow possessions will create shots a bit faster.
A "Slow" Shot Clock
So maybe that is the answer to the college lacrosse shot clock… a longer run of time. Let's take things to the extreme, and use a 120 second shot clock as a starting point. If a team had 2 minutes to get a shot after a save or turnover, some of the games from last year would play out the exact same way they did in reality. Those fast paced games could still occur naturally. But those really slow games, where neither team looked to push the ball, and could hold on to it for 5 minutes at a time, those games would be impacted, and forced into a slightly higher pace of play. By lengthening the shot clock to an extreme, it forbids teams from really slowing it down, but it does not do all that much to truly speed up the game overall. Would a 90 second clock allow for this as well? At this point, it's still hard to say.
A big drawback here is that teams could simply adapt to use whatever the maximum time allowed happened to be. If it's 60, teams use the full 60. If it's 120, or 90 seconds, the same thing happens. There is a constant risk of slowness from dictating play with a clock when you're dealing with conservative approaches to the game.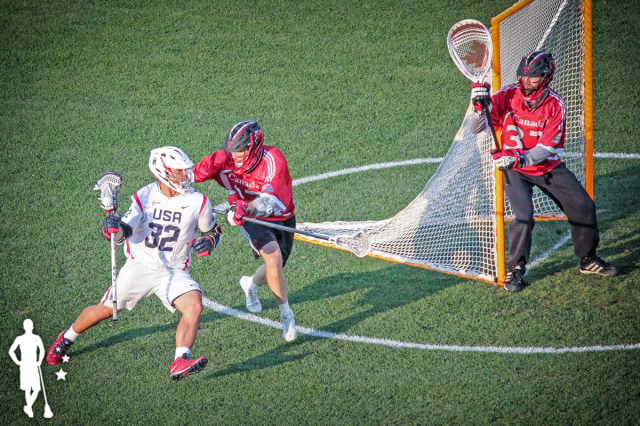 A "Super Fast" Shot Clock
Let's take a look at the other extreme, and go with a 30 second shot clock!
After a save or turnover, Team A has only 30 seconds to get a shot on goal. Clears would be manic, outlet passes would become incredibly important, and very few substitutes could come on as specialists. At first, it seems like transition all the time, but I don't think college coaches would let that happen. With a 30 second clock, lacrosse would tend to value defense more, and I could see coaches packing in 5 defenders to make the other team rush shots. Loads of 14 yard shots after alley dodges doesn't sound that great to me. I don't think we'll see a 30 second shot clock even discussed, but looking at the danger that extreme approaches can present is just good troubleshooting.
If you throw a bunch of random players out onto a field with a 30 second shot clock, you could get a fun, up and down, game. But if you have teams that practice together a lot, that 30 second clock becomes awfully short. In my opinion, this would shift the balance of power to the defense far too much. I'm curious if a 60 second clock could do the same?
Why I'm Still Not A "Shot Clock Guy"
Maybe I'm biased because I like international lacrosse, where there are no clearing clocks or shot clocks, and where the stall warning is barely enforceable. I like that if a team on defense wants the ball back, they have to go get it. I love the risk and reward of a takeaway defender, and believe that these players give the game a different edge than basketball or soccer. With a shot clock, we will never see another Dave Pietramala. Think about it… what coach is going to have a takeaway guy throw junk when they can just wait 20 seconds and the other team will take a rushed shot? Just find 4 amazing athletes who can play body position, a solid goalie, and then wait to play the percentages. To me, that's not exciting lacrosse, and personally, I think the game would suffer for that fact alone.
I also enjoyed watching Canada beat the US this Summer in Denver. It's not because I wanted to see Team USA lose, but it's because the underdogs beat the best team I'd ever seen by playing smart, patient, team lacrosse. With a 60 second, or even 120 second, shot clock, that game doesn't happen the way it did. If you're a USA fan through and through, then that's great for you, but if you appreciate lacrosse on a deeper level than just who wins, that game was an absolute gem. I'll forever be thrilled that I saw it in person, and am not excited to see games like this removed from the college game.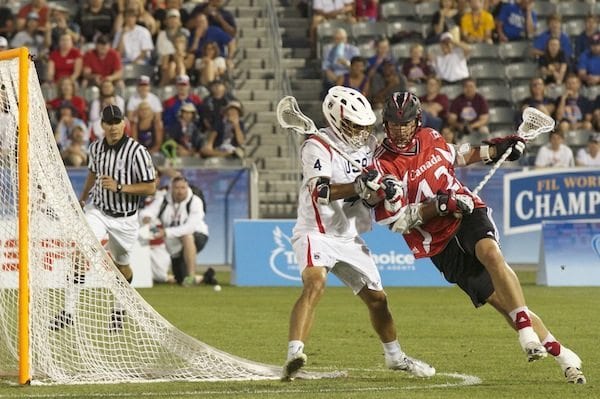 Want some more "shot clock hate"? Evidently, I've got plenty!
Teams like Tufts (for at least the last 7 years) and Loyola (in 2010 at least) play fast NOW, and they see success doing so. Teams like Denver slow it down and try to score efficient goals, and then pack it in on D, and they are seeing a lot of success as well. Duke mixes in a bit of everything, and Notre Dame has changed their style of play to be more aggressive. None of this happened because of rule changes. It all happened because teams want to win.
Right now, college coaches are apparently clamoring for a shot clock, but how does that make any sense? The only ones forcing them to play slow right now are… themselves. Want to play fast? Play fast! Everyone doesn't have to do the same thing, do they? Will a team slow it down against you once in a while? Probably. Honestly, deal with it! Score more goals, win face offs, push the ball anyway. Have faith in your system, but don't mandate total change just so the "playing field is level", or whatever it is in which you're couching all this shot clock stuff.
Best Case Scenario
The shot clock comes into play, and teams run and gun in response. Transition is up, goals are up, and parity is up. Athleticism and speed are more coveted than ever, and the goals just don't stop coming. SportsCenter highlights abound, new fans flock to the game, and college lacrosse becomes the Spring equivalent of football. Some people out there actually think this could happen, because they say so.
Worst Case Scenario
I don't know that the below will definitely happen, but it's been running around in my head for the last month as a serious potential outcome…
Let's look at the University of Denver. The team plays smart offensive lacrosse. Under a 60 second shot clock, they'll be just fine on that front. I believe they can consistently score 9-11 goals per game under a shot clock restraint. I also believe that their defense can limit opposing teams to under 9 goals on average right now, and with a shot clock, I think this number drops even lower. Denver drops into the hole immediately, and plays almost no transition defense. If there is a shot clock, I can't see them breaking this rule, instead I see them strengthening it. Good D1 teams can play defense for 60 seconds more often than not. So my question is, how do you score on Denver, or any other team like that? Duke could do the exact same thing. So could Notre Dame. They are going to get "theirs". How will anyone else match them?
We score at least 8, you score less than 6, because you can never break down our D in one minute or less consistently, and we don't allow transition, at all. Is that the exciting lacrosse you really want? Is that the parity you want to see? Or are these top teams only going to get stronger and more deliberate? A 60 second shot clock does nothing to guarantee more run and gun or that speed and athleticism are valued higher. It gives teams just enough time to slow it down, and for coaches to retain a lot of the control they already have.
Bill Tierney is a lacrosse genius, and his staff is too. Kevin Corrigan and Gerry Byrne probably can't believe their luck right now. John Danowski at Duke must be laughing to himself. A shot clock? You guys want a shot clock? Um, ok, but the joke is on you. Welcome to the land of consistency and control truly being king! Welcome to deliberate, slow-down lacrosse, mandated by a shot clock.
If you have a 60 second shot clock, teams would conceivably be forced to shoot the ball 30 times per game (60 minute game, 60 60-second shot clocks, 60 shots, 2 teams, 30 per team). Add in additional clearing clocks and that number could be even lower.Is that more than they shoot the ball now? Last year, Denver average 35.6 shots per game. Their opponents averaged 32.9. They didn't play "fast" lacrosse. How does the shot clock change anything? Duke put up 41.5 shots per game and gave up 35.4. Doesn't 30 and 30 seem like a step back?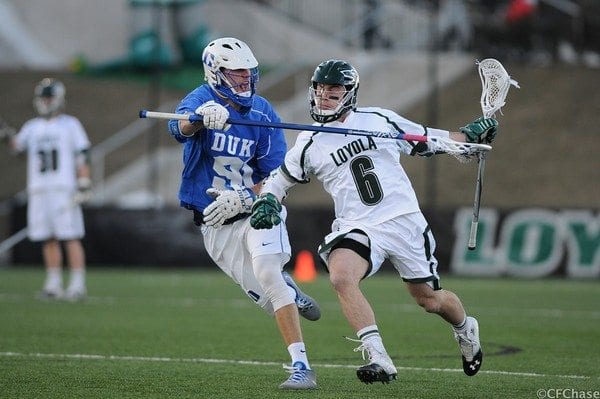 Final Thoughts & Questions
I agree that the stall warning was broken before the recent changes. I also agree the new stall warning was extremely flawed. But I am not convinced that a constant shot clock is the answer. There is a pandora's box of issues that the shot clock could bring up, and I'm not a believer that our game was so broken.
Will we see a 2-point line next? Will refs now have to actually call cross checks from d-middies to allow offense a real chance? Will the zone defense become commonplace? Will the Rules Committee then feel pressure to make zone defenses illegal? Will that make reffing easier? Will there be visible shot clocks? How much will these clocks cost? Could that money be better spent within the game?
Will high schools and youth leagues adopt this rule change? Will we ever see another true takeaway defender? Will passing lose even more value when compared to the ability to dodge a short stick and shoot on the run for most teams? Will physical defense become outlawed? Will our sport turn into basketball or soccer eventually where physical defense is outlawed and players flop to draw calls? Is this really what we want?
Will the top programs only distance themselves from the rest of the pack with this change? Will the college lacrosse shot clock actually make the game any better? At this point, I still have a lot of very serious doubts.
I believe in the current on-field product that lacrosse offers. I can admit that there have been some recent college games which were snoozers, but the same can be said for college basketball or football. You can't mandate excitement in sports… sometimes, teams are going to grind it out. That is not something we can change. So instead of pushing for some magical panacea, and call it a shot clock, perhaps we should look at ourselves, and see how we coach, play, and value the game. Maybe coaches can figure this out on their own… or maybe they already have!
The College Lacrosse Shot Clock gives coaches MORE control over the game. It makes opponents more predictable, and while some will experiment with crazy rides and different approaches, MOST will go the opposite route, and become even more conservative. That will lead to slow down lacrosse. It could happen. And if it does, don't say you weren't warned. I'm hopeful that a shot clock can do good for the game, but I'm far from sold on the idea. Good luck to us all.