This is going to be a GREAT weekend of college lacrosse games.  The sheer number and quality stand out immediately and I'm here to run through the best of the best from the NCAA D1 – D3 ranks, the MCLA, the NCLL and even a little Junior College ball!  It's a great weekend to be a lacrosse player!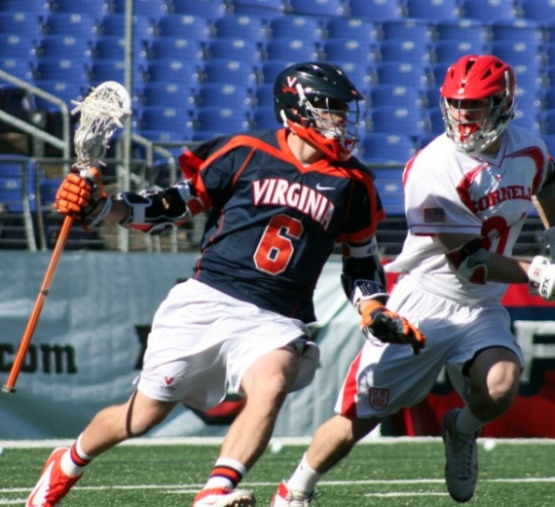 Photo Credit 24SevenLax.  Check out the full album on their Facebook page!
NCAA DI
On the D1 side of things, the big games start up on Friday night.  UNC heads to Duke for a 5pm game which will be televised on ESPNU. Definitely worth a watch!    For a FULL TV SCHEDULE, look no further!  Duke is talented but lacks depth.  UNC has talent but seems to lack cohesion.  We like UNC to bring it in this one and pull out the W.  They have to make this year THEIR year.
On Saturday the quality just keeps coming.  Loyola needs to take down Air Force, and should.  Army at Lehigh should be AWESOME.  I actually like Lehigh here by 1.  Bellarmine at Michigan reminds us of all the recent D1 growth, but more importantly, SHOULD be competitive.  I like Bellarmine in a tighter than expected game.  Brown at Harvard?  Yes please!  It's only an hour drive and should be a really good Ivy League contest.  Brown by 2.
Delaware at Hofstra will feature a lot of blue and yellow and could be an explosive game filled with nifty goals.  I like Delaware by 1 or 2 in a higher scoring affair.  UMass at Penn State could be superb, and it could be a blow out.  I know UMass will show up and score, but can PSU answer?  I like UMass to win this one big, but do so later in the game.  12-7 Gorillas.  Penn at Princeton will be on TV and this is a good chance for people to see Penn.  I think Princeton will take it by 3.
Villanova at Maryland has potential and at the beginning of the season I would have picked UMD, but at this point I'm not so sure.  The Terps really NEED wins right now, but 'Nova seems kind of hot for some reason.  I like Villanova by 1 in a bit of a surprise.  Virginia at Ohio State won't be as good as some people think.  UVA will roll here.  Yale at Cornell should have upset written all over it in many people's eyes, but a Pannell-less Cornell is STILL a top level team.  Big Red big.
The game of the weekend is Syracuse at Johns Hopkins.  This is simply undeniable.  The meeting of THE up tempo team and THE conservative team is always highly anticipated, and the talent out on the field is going to be ridiculous.  I like Syracuse to keep the pressure up here and win by 1 or 2.  I think the Orange really want to prove who they are after their UVA loss, and close call with St. John's.  If Hop goes up early, it could all change though.  And that's what makes it the obvious choice for "biggest game."
On Sunday we are treated to Dartmouth at Duke, and with the Blue Devils playing UNC on Friday, ANYTHING can happen in this game.  So much so I won't even offer a prediction.  And finally, Denver at Notre Dame represents another clash of styles.  ND will try to slow it down, keep the goals low and grind out a win.  Denver should attack at weird moments and put lots of pressure on the ND Defense.  I like offensive teams in general, but I also think Denver will be able to limit ND's offense.  Denver 7-6.
NCAA DII
Taking it to the NCAA's second division, we find a bunch of quality contests.  The headliner of the group might just be Adelphi at LeMoyne, and I like Adelphi in this game.  Dowling at CW Post could be another good one, this time on Long Island, and I'm picking Post by 3.  The game I'm perhaps MOST excited for is Seton Hill at Mercyhurst.  Mercyhurst has a target on their back, and Seton Hill is capable of winning the big game.  Could be an instant classic, although I like 'Hurst by 4.
NCAA DIII
In NCAA DIII action, there will 74 games played this weekend.  So yes, I may miss a few worth noting.  But I'm going to hit the big contests, and probably make some preposterous predictions.  Such is life.
Bowdoin vs. Amherst should be good as Bowdoin is strong and Amherst is top 5 team that wins typically close games. I like Amherst to win by 2.  Conn College at Middlebury should be ok, but has the chance to be boring.  Neither of these teams has proven offensive talent and both rely on their defenses.  I'm thinking 7-5 Midd.  Gettysburg at Haverford features two teams that both need to head in the right direction RIGHT NOW.  It should be a tight game, low-scoring and I think Haverford pulls it out 8-7.  Hamilton travels to Colby for another shot at their first conference win (0-2) as a member of the NESCAC.  Hamilton has been close so far, and this game is winnable for them.
Lynchburg at Roanoke will be labeled by most as the game of the weekend, but I'm not sold on tier of these teams yet.  I watched Lunchburg beat Stevenson, and Stevenson looked horrible, so maybe Lburg is the reason I thought that.  Lynchburg has to be favored by a goal or two, but playing at home could help Noke.  Still I'll take Lynchburg by 2.  Heading North, we have RIT at St. John Fisher and I think RIT will win this one by a decent margin.  It should be a good game with a lot of talent though.
Staying up North, Stevenson makes the trek to Cortland, and the Red Dragons will crush Stevenson if they play like they did against Lynchburg.  Thankfully, they have a good coach and lots of depth, so hopefully they have made some changes!  I expect the Mustangs to bring it, but like Cortland by 3 goals, 10-7.
Maybe it's my northern bias, but I like Tufts at Stevens as my game of the week.  Two top flight academic institutions doing battle in Hoboken, NJ.  It should be a killer match up, and I like Tufts 12-11 in OT.  Should be one heck of a game either way.
MCLA
On the MCLA side of things, we've got a ton more action!  Briarcliffe is out in Ohio trying to prove their mettle against Indiana Tech on Friday night.  Another great Friday ngith game is BYU vs Wisconsin.  BYU is very strong and should win, by Wiscy is improving.  Clemson at Colorado is HUGE.  I like Colorado at home, but think it will be tight along the order of 10-8.  Illinois at Oregon could be good and I like the Ducks by 4, if they shoot overhand.
On Saturday, we have a couple games that could be considered weekend headliners.  Chapman hosting Arizona State is one of those games.  I like Chapman by 3 but it should be heated and physical.  Briarcliffe plays Dayton as their Ohio trip continues.  I'm picking the boys from Long Island in an upset prediction.  Clemson plays UNH and should win.  BYU at Minnesota-Duluth has the recipe for fantastic.  BYU by 2.  South Carolina at Virginia Tech should be intense as the SELC is pretty open this year overall.
NJCAA
For the NJCAA I am picking out two games to talk about.  I'm curious to see if Harford can raise their game when they take on Nassau CC on Long Island, and I'm REALLY curious to see if Suffolk can bounce Anne Arundel on the road.  Suffolk is rolling right now, but this could be a potential trap game if the Sharks don't come hard.  I like Suffolk by 4 and Nassau by 6, but either game could end in surprise.
And there you have it… a FULL college lacrosse weekend preview.  Did I miss anything?  Let me know in the comment section!