This past weekend of college lacrosse was really quite exciting.  There were a bunch of great contests and a couple of shocking upsets from across the college divisions.  We'll start with a couple of outstanding NCAA D1 results and then work our way down the college spectrum!
Army beat Bucknell 6-5 in OT, and it was a pretty solid game.  Both teams really brought in on defense, and this was well evidenced by the fact that Bucknell had to try a hidden ball play on MAN UP to tie the game at 5.  Still a sick goal.
Brown beat Penn11-10, and the Brown Bears have to feel good to finally take home a close win over a good team.  Brown has been close a number of times this year, and this Penn win is a hopeful sign.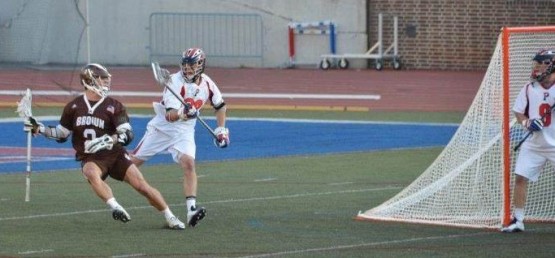 Colgate beat Lehigh 11-10 in OT and this was just a HUGE game.  Lehigh really looked dominating, but Colgate brought it and exceeded 10 goals for the OT win.  Peter Baum only had 1 goal and 1 assist.  I guess Colgate has some unknown depth!  Duke beat Marist 11-10, and this Duke team has my head spinning.  It seems to be an issue of consistency and experience in Durham, because the Blue Devils clearly have talent.  Duke might be the biggest enigma in D1 right now.
Penn State earned a huge 10-9 win over Drexel proving that they are for real right now.  In my mind, that was an upset.  Loyola snuck by Fairfield 8-6, but the Stags like to keep games close, so don't sleep on Loyola because of this score.  UMass throttled Towson 14-3.  Ouch.  The Minutemen are totally legitimate.  Syracuse beat Princeton 10-9, and both of these teams are good, but I'm not sure either will make the run this year that their fans expect.
In NCAA D2 ball, Adelphi beat St. Mike's 8-6.  That's a good win for Adelphi as they have dropped a surprising game or two this year.  Dowling beat Bentley 7-6, and that's a little closer to what I expected from the Falcons this year.  At least they kept it close.  Dowling is good, and this was tight game.  LeMoyne beat Merrimack 8-6, Pace beat SNHU 9-3, and NY Tech beat Chestnut Hill 10-6, as traditional powers did well.  In a bit of switched fortunes, Molloy lost to Seton Hill 9-6.  Tampa beat Rollins and won their conference in their first year as a program.  Could they go to the NCAAs?  WOW.
As we move to NCAA D3 college lacrosse, the upsets start coming in like wildfire.  Colby led the way with two wins in two days over ranked teams Wesleyan and Trinity.  Colby beat Wesleyan 11-5 and really dominated the game.  Colby beat Trinity 9-7 on Sunday, also at home in Maine.  Amherst beat Middlebury 12-11 and Trinity beat Bowdoin 7-4 the day before they played Colby.
Union got a solid 12-9 win over Clarkson, and Clarkson is better than most people think.  Both of these squads are top 20 teams… Union is probably in the Top 10-15.  Ithaca beat Nazareth 11-5 and it's good to see the Bombers back!  Ithaca looks strong and is hoping to make a run this year.  Washington College beat Dickinson for a good win.  Years ago this win was expected, and now it's celebrated.  How DIII can change, eh?
Lynchburg, Roanoke, Salisbury, Springfield, Tufts, Endicott and Conn College all rolled over their opponents easily.  RPI beat RIT 10-7 for a really big upset win.  I did not see that one coming at all.  Stevenson took down previously undefeated Denison in Maryland by a score of 12-9.  24SevenLax was there and has the full scoop.
On the MCLA Division 1 side of things, we saw some CRAZY results.  What a weekend!  I almost don't know where to start…
Texas went to play SFU in Oregon, and I was sure Texas would take this one.  NOT EVEN CLOSE.  SFU won 13-7 and the weekend of shockers came to a close.  Before that, BYU had taken down Colorado State 8-6, and I was sure that one would turn out the other way.  It probably didn't help that BYU had lost to Colorado two days before 11-9.  If Duke is the biggest enigma in D1, then Colorado is the biggest enigma in the MCLA.
VTech beat Clemson 11-10 in what I'm sure was a fantastic game.  The SELC is really tight this year, and it's making for an extremely exciting season.  Oregon beat Texas 14-5 and I thought this game could be closer… couple that with the loss to SFU and Texas looks a little exposed.  Chapman, Chico State, Arizona, and Oregon State all won big at least once this past weekend.  Cal Poly survived Sonoma State 13-9.  A win is a win and CP has a LOT of them!  Same goes for UCSB as they beat LMU 9-6.
For MCLA Division 2, we saw some HUGE games on Long Island of all places.  SCAD and Davenport made the trip to Briarcliffe, in Holbrook, NY and the area was treated to great MCLA D2 games on Friday, Saturday, and Sunday.  Not too shabby!  Davenport beat Briarcliffe 8-7 in an emotional and crazy game. Early reports indicate this one was just nutty.  The next day, SCAD played Briarcliffe and won 9-5, which came as a bit of a surprise.  But then SCAD beat Davenport 7-5, and I was left scratching my head.  I expect all three of these teams to do well as the season winds down.
In NJCAA action, ASA got a big 18-11 win over Morris.  Nassau CC rolled over Anne Arundel 18-4 and Onondaga beat Alfred State 33-1.  33-1, seriously?  Nassau beat Suffolk 11-6.
On the NCLL side of things, George Washington got two big wins over George Mason and Morgan State.  The Navy Club beat the Virginia Club 11-5 for a big win.  There are a lot more NCLL games this weekend!
Did I miss a GREAT game?  Let me know in the comments section!
Main Photo courtesy Brown Men's Lacrosse.