Editor's note: MLL Rookie of the Year Matt Gibson returns with another installment of the Diary of the Dutchmen. Follow along as Matt shares his experience on the Grow The Game Tour.
_____________________________________________________________________________ 
Saturday, Oct. 6 – Day 9
We spent Friday night at Kevin Flynn's house in Missoula, Montana. He had plenty of couches and beds up for grabs, but the real veterans opted for another night on the Dutchie parked out front.  We're in pretty deep.
Saturday morning started with the usual blast session, then we headed to Dornblaser Field at the University of Montana.  Henry Fitzpatrick, Krieg Shaw, and I got the chance to suit up with Team 406, a group comprised of Montana alumni and friends.
It was refreshing to get back on the field, but the real action came in between games.  Kids were swarming the Dutchie checking out what LAS and Easton had to offer.  Any kid who came up and didn't have a stick (or had a really old one) was surprised with a free Easton wand.
At one point, a youngster challenged Mike to a game of LaxAllStars Cornhole.  His name was Dean, and Mike seemed to like that name based on how many times he said it.
(Also, notice a patron bless me with a nice gift during the fast forwarded portion)
Later in the day, MP put on a little shooting clinic, and I followed it up with some stick tricks.  A hang glider flew about 10 feet over the crowd during Mike's demo and he improvised, "It's all part of my show."  It actually did seem like it was planned, but I'm convinced this hang glider didn't have his head on straight.  Either way, it was live action.  We ended the day coaching a scrimmage at the Montana Elite 100 clinic.
It was amazing to see the improvement of the players over the course of just 2 days.  The kids were really soaking up everything we were teaching.  There's no doubt in my mind that Montana lacrosse will continue to rise in the future.
In the post game, we also learned that it was Kevin's birthday, so we sang to him as is tradition.  It also called for celebration; Missoula has a hopping night life and copious amount of parking.  This allowed us to bring the Dutchie out on the town with us.  Eventually we parked the Dutchie outside Kevin's house again, choked the genny (generator), and got electrified.
Sunday, Oct. 7 – Day 10
Sunday was a huge day for the GTG gang.  We spent the morning back at the University of Montana to watch the end of the MCLA tournament.
Some of the kids from the Missoula Elite clinic showed up again, and you could tell they had caught the stick trick addiction.  Even better, they were using the Easton sticks we gave them.  "Next time I see you I'll have that behind the back one down," said one of the kids.  The encounter with them was a reminder that we were tangibly growing the game here in Montana.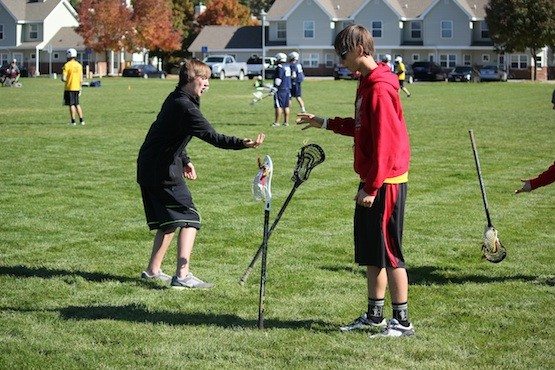 After the tournament we headed to a gas station for a few hours to snag some internet and fuel up before our big clinic on the Flathead Reservation in Ronan, Montana. It's important to note that Krieg Shaw has done all the driving on the Dutchie thus far.  He deserves a lot of credit even though the Dutcher is a dream boat to drive.
We didn't know what to expect when we arrived in Ronan.  We rolled out some balls and goals on a small field and waited.  After about a half hour, though, about 50 kids of all ages and their parents had showed up.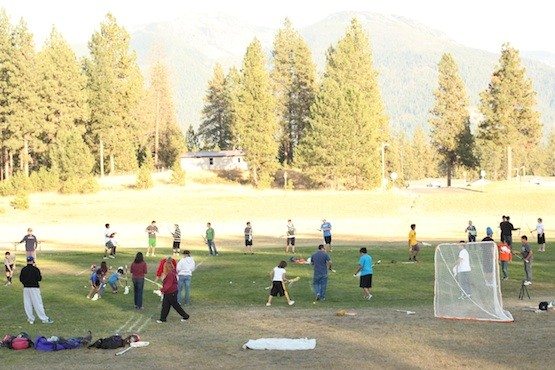 We opened up with a traditional prayer by our new friend Alex who lives and teaches in Ronan.  He has been a big part of lacrosse growth in the area, and he's also a great goalie (we played with him in Missoula).
Alex's prayer emphasized that lacrosse is more than a sport – it is a medicine, a community glue, and a way to please the creator.  Looking at it through this lens turns lacrosse into something far greater than just a game.  For us GTGers, that's been an emphasis.  We've stressed how all aspects of our lives have been intertwined with lacrosse, from our childhood to our education to our friendships.  This makes lacrosse, and its growth, all the more special.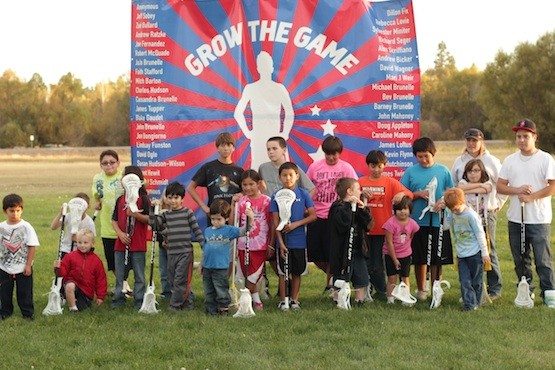 Overall, the Ronan clinic was a tremendous success.  We had introduced tons of locals to the sport and gave them sticks to start their journeys.  Finally we packed up and headed north to Glacier National Park, where Kevin Flynn has a cabin. We blew off some steam and watched the Northern Lights around a camp fire.  Tomorrow we tour the National Park and head to the Blackfeet reservation up north.