The first week of the MLL season provides a perfect opportunity to take any old observation and run way too far with it.
Example: New York beat Rochester 18-15 last weekend; so now I must ask, do the Lizards have the best offense in the league? The worst defense? According to the totals around the league, yes and yes, respectively. But that doesn't make it so. The teams that played for the 2013 Steinfeld cup scored the fewest goals last weekend, and the two worst teams scored the most. Have we seen a complete reversal of power across the league? Maybe, but then again, maybe not.
Let's wait a little bit before we try establishing patterns here, but one thing is certain: four teams are just a little closer to making the playoffs. They're a baby step closer, but it's closer than half the league, and you can't deny that. It's the power of mathematics. Now that week two has arrived, it's time to see which teams are fast learners and which ones might (again – just might; it's week two) be in trouble.
Boston @ Rochester
This weekend's slate of MLL games begins this Friday (cancel your plans accordingly), with the Cannons looking to avenge a stone cold 23-14 drubbing the Rattlers dropped off in Harvard stadium at the end of last season. Just for the sake of argument, let's assume Kevin Buchanan doesn't score seven goals this week.
The Rattlers (who gave up 18 goals last week) will still have to contend with the likes of Rabil, Manny and Berger, although possibly not Mike Stone, who (despite being second on the team in scoring last season) was a healthy scratch last weekend. For Rochester, it's a big opportunity for week one surprises (although in completely opposite ways) Dan Hardy and Sam Bradman.
After his four-goal performance last weekend, Hardy has earned some extra defensive attention, this time coming from poles like Brodie Merrill and Mitch Belisle, guys with a bit more to their resumes than Hardy's New York opponents. Bradman was a non-factor in his MLL debut ("I don't think he feels where he fits in," said head coach Tim Soudan), but a Steve DeNapoli-free weekend might give him a bit more room to get accustomed to the game.
If these positional usurpers are going to prove that they should stay in the lineup for the long haul, especially once the fresh-out-of-college rookies join the team, now is a great week to do it.
New York @ Chesapeake
The last time these two met, an 18-9 Bayhawks win last June, has been the only game were Rob Pannell failed to score a goal, so the Chesapeake close D has that going for them. Unfortunately for the Bayhawks, even if that effort repeats itself, their defensive midfielders (and/especially offensive midfielders caught playing defense) were repeatedly singled out and humiliated against the Cannons last weekend, meaning somewhere in New York, Max Siebald, JoJo Marasco & co. were watching Boston-Chesapeake game footage, tapping their fingers and chuckling under their breath like Mr. Burns.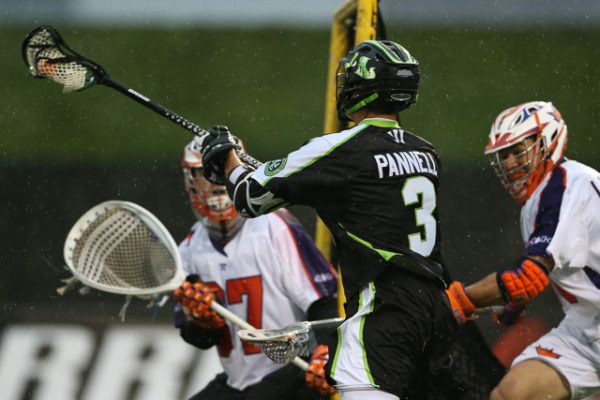 If both teams' performances last week mean anything (again, it's still early. Can't be said enough), the Bayhawks better have those slides ready to go ASAP. Oh, and one more thing: Chesapeake might have to stop the Lizards without Kip Turner in goal, as his status is currently up in the air after exiting last week's game with an injury.
In Lizards news, Ned Crotty was scratched from the lineup last weekend (Coach Joe Spallina told the "Inside the Lizards" radio show that it was due to a "violation of team rules, coaches' decision"), but he should be ready to go for this game, finally shining some light on one of the most polarizing debates in pro lacrosse today: can a Ned Crotty/ Rob Pannell duo peacefully co-exist on an MLL field?
Spallina has sounded extremely confident that they can, and will, but since the moment Ned was traded to the LIzards, we've been waiting to see exactly how and where his style would best compliment the New York offense. Will Crotty and Pannell be lacrosse's version of Batman and Robin, or lacrosse's version of "Batman and Robin" (the movie everyone thought was a good idea but ultimately turned out to be indescribably terrible)? This squad scored 18 goals last week without him; if Crotty comes in and they score 10? Oh man, we're going to jump to so many baseless conclusions.
Charlotte @ Florida
The Florida Launch started their season off ugly (not backing up shots, making questionable and unnecessary slides, pretty much everybody on the field carrying the ball through X… you name it), but came out strong in the second half of last week's game against Denver. Moving Casey Powell to attack helped settle the Launch offense; don't be surprised if he starts the game down there instead of the midfield role teams seem to love giving him.
While Scott Rodgers and the Ohio defense staged a great performance, you could certainly tell Charlotte's offense missed Peet Poillon last weekend. With Matt Danowski held without a goal, the supporting cast couldn't carry the extra responsibility, and the Hounds failed to score double digits after doing so in every game last season. If Danowski is there (he had the time last weekend since Duke had been bounced from the ACC tourney), he'll likely get his, having scored six goals (one two-pointer) when the Hounds played the Nationals last August. If not, hopefully they learned some lessons from last week.
Just like the Bayhawks, Charlotte is dealing with serious uncertainty in cage. Mike Gabel was chased out after giving up six goals in the first quarter last week; will Pierce Bassett get the nod? The Hounds have been talking to Adam Ghitleman (currently coaching at Harvard) on a daily basis regarding his availability, but it's not looking good; if you couldn't tell, it's a tricky time of year for college coaches.
Assuming Ghitleman doesn't make it to the game, Charlotte's defensive midfielders, who couldn't keep up with Baum and Harrison last week ("We were tested and the test did not go well," said head coach Mike Cerino), are especially hoping Kevin Crowley waits one more week to make his Launch debut. Aside from Josh Amidon, Florida's midfielders failed to score a goal last weekend; if that continues, it's going to be a serious problem.
Ohio @ Denver
After Ohio's 15-8 victory last week in Charlotte (the 2013 Machine didn't score their 15th goal until the third game of the season), it's fair to say these guys won't be sneaking up on anyone, not even the regular season Juggernaut Denver Outlaws, who steamrolled them 19-5 when they met last June. Denver began their 21 game regular season (sorry I have to keep specifying that, fellas) winning streak against a first-year Machine team, but those guys have been drinking their milk, and now they're all grown up – who better to end the whole thing?
If they're going to pull off the win, they'll need to bring more of the same from last week, most notably their ultra-aggressive ride that forced turnovers and continued to give the offense additional scoring opportunities. Having Logan Schuss, who led the Machine in scoring last season, back in their lineup should certainly help as well.
Despite a few differences in their roster, the Denver offense picked up right where it left off last season. Defensively, they enter the game in a much better place than the Hounds last weekend, having seen what the new-look Machine bring to the table. They're also in a better place because they have a Lee Zink and a Jesse Schwartzman, and Charlotte has neither; it's like scoring six touchdowns in Madden before you realize the difficulty level was a notch lower than it was supposed to be.
Good luck to your squad, look out for Denver's May 4th uniforms, and check back next week for more MLL coverage! It's early in the season, so let's get ridiculous!