At about the same time every year, as college football winds up, we start to remember how excited we are for college lacrosse. December is the month where teams announce their finalized schedules, captains, trips, and plans for the season.
So far, some special location games that have caught my eye are Notre Dame vs. Denver in the Pacific Coast Shootout at Orange Coast College (Orange County, CA) and the Moe's Southwestern Grill Classic that takes place every year down in Jacksonville, FL, which will be featuring UMass, Ohio State, Jacksonville and more.
What I'm trying to say is get those travel arrangements ready, some of the best lacrosse will be played in less traditional areas. Moe's Classic and the Launch are in Florida, Chicago is making a push for the NCAA Finals, and teams are finding their way to Cali for the regular season.
The game is growing, fast, so get on board and get out and support the expansion. These games mean everything for lacrosse to keep expanding west of the Mississippi!
Markbuster Video
Spend 4 days with Notre Dame
Colton gets all "Stonehenge" with it
NLL Star Kyle Sorenson stops by The Lacrosse Show
Holy Throwback USA vs. Canada!!!!
Connor went to Maine, this happend…
High Rollers 2013 anyone?
What's Goin' On?
Special lacrosse player killed for headphones
A NLL veteran's tale: Ravens too early, hopes Stealth isn't too late
Comparing Face-Off Yearbook Rankings to Year-End Adjusted Efficiency Margin Rankings
NLL training camps affected by CBA
Iroquois in Germany out for FIL 2014
10 Mistakes New Coaches Make (and How to Avoid Them)
Turning down scholarship to Denver for the NHL
Former Brown Field Hockey and Lacrosse Coach, Passes Away
Helping Hands
Bristol Lax Players Raise Money For Wounded Soldiers
Black Friday Laxgiving raises money for those in need
US Lacrosse Announces Michael Breschi Scholarship Recipients
Holiday Deals

We scoured the interwebz for the best holiday specials out there, and boy did we have some luck! There's no better time than now to do holiday shopping from the couch in your pajamas. Here's your chance to save big on lacrosse equipment, cleats, and lifestyle gear. Enjoy!
[highlight]*Note:[/highlight] If you're an online retailer with a special offer for lacrosse fans, let it be known by contacting us today.
Holiday Grab Bags
We have a variety of coupons available for Holiday Grab Bags, but they're going quick. Here's a snapshot of what's available below (as of 12/5).
8 remaining:
Use code "sockitto2013" for a free pair of socks
10 remaining:
Use code "thailand" for a free Thailand Lax watch
100 remaining (Free ground shipping for your order. Delivered by January 1, 2014):
Use code "freeground" for free delivery by 1/1/13
*Only one coupon may be applied per order.
LACROSSE.COM
Free Shipping On Orders Over $75.
UnderArmour.com
Free 2-Day Shipping. No Minimum.
20% the Big Logo Hoodie
Check out a ton of holiday deals hand selected with lacrosse players in mind!
Mesh Buyers Guide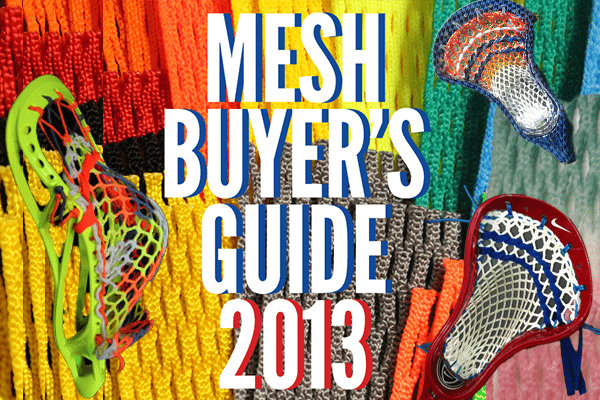 It's hard to keep track of time when you're having fun. We have been having fun stringing non-stop all year long, creating tutorials, reviews, and beautiful works of art for you to drool over.
The whole time we have been stringing up wands, we have been collecting data and researching some of the best pieces of wax, rubber, and performance mesh on the market.
Check out out Mesh Buyer's Guide for 2013, I hope it helps you with your mesh buying decisions.
Community
Traditional Thursday EAGLE NEST POCKET
Welcome Pro Lacrosse to… Maine!
What are looking for in a non waxed mesh?
Important Note
If you've made it this far, hear this: We want End Caps to serve as a resource for you to catch up on what's going on in the game. Feel free to post any videos, comments, pictures or stories here in the LAS Community, and we'll use them for upcoming editions. If you even read this, post in the forum, maybe you'll get some stickers(does anyone read this?) ;) Stay in shape this month, fat season is here (Thanksgiving through New Years)!
Now get out there and hit the wall!