I hope everyone is pretty partied out from all of the Thanksgiving and Hanukkah activities. Remember, now is the time to get ahead of your competition! While the enemy is stuffing his face and relaxing during the holidays, you can get out and train. Something you can control is how hard you work — don't wait until conditioning and fitness testing to get your self in  shape.
Mustache Madness is officially over until next year [EN: fundraising has been extended until Friday, December 6], and team LaxAllStars raised $2,375 to support the HEADstrong Foundation. The fight against cancer doesn't stop just because it's December. There is plenty to be done for others this holiday season.
Markbuster Video
Paul Rabil's Project 9.9 kicks off
Top heads for defense
The Launch send Brodie to Boston
Best of 2013 highlights
Box in NYC, part deux
Polish lax anyone?
What happens at Maverik HQ?
What's Goin' On?
The NLL is almost here, catch what you missed this offseason
Lacrosse bridges gap between Harlem And Boston suburbs
Learning by doing: Roughnecks look to progress
The Duke lacrosse mess seems to be behind us now
Helping Hands
Lacrosse tournament raises money for soldiers
Denver lacrosse jersey ends up in Sierra Leone
From the Pond to the Xcel Energy Center
Minnesota made moves to get the 52nd pick from Edmonton via Calgary, and with that selection the chose Nicholas Jonas, of the University of Minnesota. At first, I said "who?" But then I noticed he was an MCLA kid, and that's amazing! Then I learned about how hard this kid worked to earn the opportunity he was given.
This made Nick the only player selected in the draft to come from a MCLA school, and oh yeah did I mention, Nick didn't play real box until the end of college? He's listed at 6'4″ 240 lbs, I don't see size being this kid's issue. I caught up with Nick this week after hearing so many awesome things about his character from the Swarm organization. I hope we can see more from him in the future.
Where and when did you get your start in game of lacrosse?
My start was my sophomore year in High School. I was looking for a spring sport to play, and was actually on my way to the locker room for the first Track & Field informational session, figuring I might as well do shot put because then I could keep lifting and stay in shape for Football next fall. Right before I entered, a buddy of mine (the goalie for our lacrosse team) caught me and asked what I was doing. I told him my plans, and he said "stop right there." He then told me St. Louis Park was having their first lacrosse open practice that night at the local pavilion; nothing was needed and they would give me a stick to use.
I showed up that night, INSTANTLY loved it, and really picked up cradling and shooting fast. It was this night where I was also given the Oriole nation nickname "freight" as in "freight-train" because I as a sophomore was as big as the seniors. The rest is history.
What's next for Nick Jonas, on and off the field?
First, I'm making that Swarm roster. Whether that means I'm on the practice roster or starting lineup, I want to learn everything about the box game while I can. Being on either roster would mean I can learn from the best and practice with the team. After that, I would REALLY love a shot at playing for the LXM or MLL. However, still unsure how to go about that one. But off the field, I'm looking forward to spending some downtime with the family.
Read the rest of the story on Nick's journey to the NLL.
Contest: It's Not Over Yet!!!!

Our MCLA helmet design contest is all but over, find your favorite dome and give it an "Awesome". The winner gets their own version of it from Cascade! Here's a few favorites. Go vote NOW!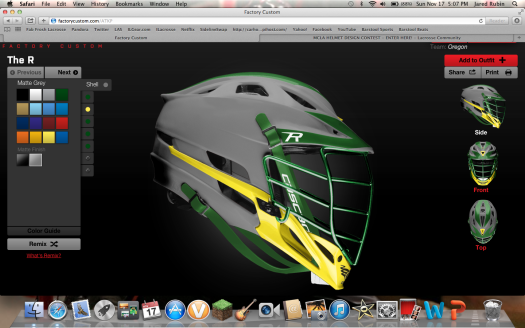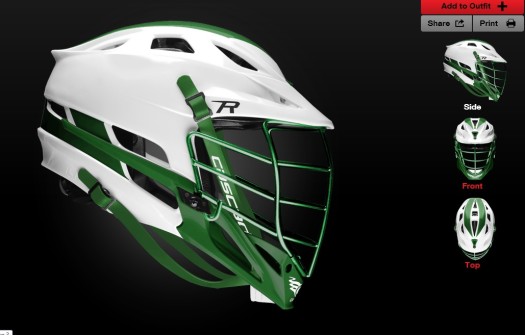 Looking Forward
The NLL starts this month, the LXM Pro Tour hits Vegas this weekend, and the rest of schedules and captains should be announced in the next couple weeks. What are your marquee games for next season? I've got my eye on the Hopkins vs. ECAC match ups and Ohio State playing Michigan for the first time in Ohio Stadium. This matchup in a venue like the Shoe will be an instant classic for years to come!
Important Note
If you've made it this far, hear this: We want End Caps to serve as a resource for you to catch up on what's going on in the game. Feel free to post any videos, comments, pictures or stories here in the LAS Community, and we'll use them for upcoming editions. If you even read this, post in the forum, maybe you'll get some stickers(does anyone read this?) ;) Stay in shape this month, fat season is here (Thanksgiving through New Years)!
Now get out there and hit the wall!