OK, so I didn't go full beard, but it's for a good cause. We have our team almost completely assembled to raise funds for Lax Stache Madness. Personally my facial hair isn't coming along as planned, but then again I'm still a baby. If you feel bad for me, you can make a donation to HEADstrong in my mustache's honor.
Videos
What's Goin' On?
Uganda names coaching staff for World Games 2014
NLL needs to keep numbers up for 2014
New Jersey Institute of Technology makes the push to D1
So does Monmouth, and they have a schedule
Lacrosse to be played on Wrigley Field, Chicago
Helping Hands
Costumed lacrosse game raises over $35,000 for charity
Tournament held in remembrance of local athletes
Lax Stache Madness makes it through Week 1
Last Call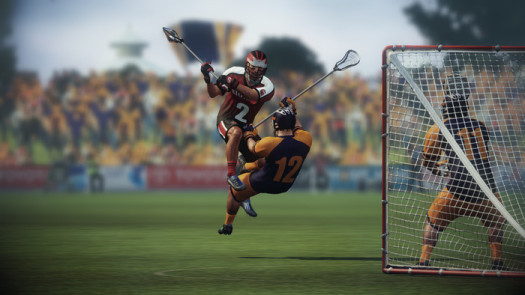 This is the final week to make Lacrosse '14 the video game a reality. Most projects meet their goals typically in the final week, right now the game has raised about 50% of the overall goal. You guys demanded the game, now it's time to walk the walk. All donations to the project are refunded if they do not meet their goal. Please do what ever you can to make this dream a reality. Together, we can virtually #GrowTheGame!
Also, we are choosing the winners of the Epoch Lacrosse breast cancer awareness shaft giveaway contest early this week. We have had some high quality responses, but the contest isn't over yet! Submissions are accepted through Monday night, so make sure to tell us how breast cancer has effected your life for a chance to win an exclusive shaft from Epoch!
Ghosts, Battlefield, or Wall Ball?
Image Courtesy: Wired UK
Most of you in the States get Monday off for Veteran's Day, make use of your free time when you have it! I know I will be getting down on COD and/or Battlefield on Monday, just like many of you as well. Don't let precious time to hit the wall, go for a run, or to go shoot slip away. Winter is coming, and lax season is right after that, make every chance you have to get out and ball a good one. The Xbox/PS3 can wait until sundown. If you want to play on Xbox Live, email me, and we can share gamertags!
Community
Hot topics this week include:
Busting Rule Myths in NFHS and NCAA Boys Lacrosse
Help a new player choose his first stick
Member's Only: Three Things You Should Know
Important Note
If you've made it this far, hear this: We want End Caps to serve as a resource for you to catch up on what's going on in the game. Feel free to post any videos, comments, pictures or stories here in the LAS Community, and we'll use them for upcoming editions. Stay in shape this month, fat season is almost here (Thanksgiving through New Years)!
Now get out there and hit the wall!