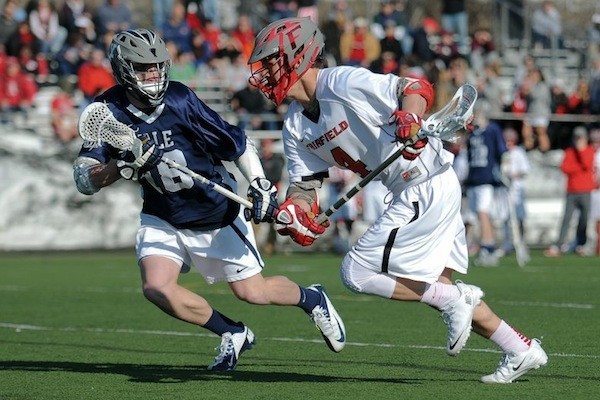 Fairfield opened up a 1 goal lead after 1 quarter, and a 2 goal lead going into the half, but Yale just would not go quietly into that good night. Both teams put up 4 goals in the third, and Yale clamped down in the fourth to blank Fairfield, while scoring two goals of their own, to tie it up at 11.
OT came and Stags' senior Eric Warden launched a bomb from about 13 yards to win it for Fairfield. Both teams fought hard all game long, and this game showcased a lot of the talent that exists in coastal Connecticut at the D1 level.
Yale had three players with big offensive days as Conrad Oberbeck had five points (4 goals, 1 assist), Brandon Mangan had four points (1 goal, 3 assists), and Shane Thornton had four points (2 goals, 2 assists). 5 other Bulldogs each had one marker, while Fairfield has four one-goal scorers. Fairfield took 36 shots, and Eric Natale made 5 saves in the tight loss. Dylan Levings won 14-27 face offs, as Fairfield used the tandem of Michael Roe and Louis DiGiacomo to keep the strong FoGo off balance.
Fairfield got hat tricks from Warden and TJ Neubauer, but Colin McLinden was a serious catalyst for the Stags, McLiden went 1-7 on shots, but his six assists gave him seven points on the day. Jack Murphy was solid in net with 9 saves.
I'm sure you enjoy listening to me describe games, and checking out all these great Greg Vasil photos, but as an added bonus, here is some video!
And here is just the OT game winner from Eric Warden:
He shoots HARD. Big time rip in a big time moment.
3-2 Fairfield next hosts Stony Brook on March 15th. 2-1 Yale faces Lehigh at home in New Haven, CT on March 11th. They play at Cornell on March 15th. Yale is currently in the middle of a six game patch where all six teams are in the top 20 (Bryant, Fairfield, Lehigh, Cornell, Princeton, and Penn).