Maryland took down Georgetown on Friday, February 24th, 2012, by a score of 16-11 in early season men's lacrosse action.  The score makes the game seem closer than it was, as more than half of Georgetown's goals came in the final 4.5 minutes of the game.  Some call it a late comeback that fell shorts, but when you're down by 11 with 4:30 to go, it's just about saving face.  Good to see Georgetown didn't give up in the game, but this one was ALL Terps.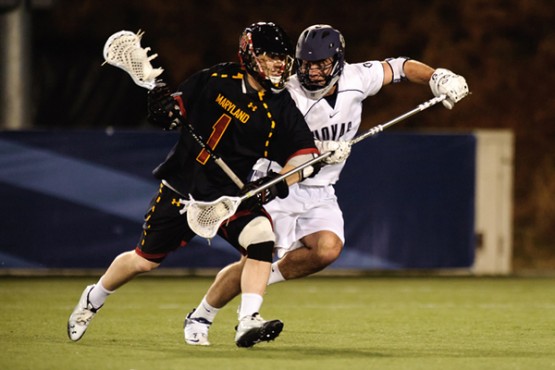 Joe Cummings led Maryland with 4 goals and 2 assists, and John Haus threw in a goal and 3 assists.  Maryland went with the all black look, and the Under Armour uniforms really took center stage.  The turtle shell pattern inside the numbers was great, and the all black lids reminded me of days past.  Next I want to see them in black helmets, red jerseys and black shorts, like they did when Casey Connor played at Maryland.  Gtown's helmets looked pretty sweet too, but I honestly preferred the all black Terp buckets.
Maryland is now 10-2 all time against Georgetown, so maybe it is time for this recent rivalry game to take some time off.  Maybe that's the motivation the Hoyas need to take it to the next level.  Maryland looks strong, athletic, and they play good team ball.  They still have talent in their long sticks, and are playing with controlled aggression on offense.  The Terps definitely look up right now, and ready to make a run this year.
All game photos by Ryan Lasek.  We'll have a full album on our Facebook page soon, so make sure you Like Us to get updates!