I ran into Jeff Melnik at ULax today, and the current Manhattanville goalie was out snapping shots as usual.  He let me know about some killer Mercy – Mercyhurst photos he was able to snap this weekend when the two teams played a game at Manhattanville, and man are they special!
So yeah, the all grey look that Mercy is sporting is over the top awesome ridiculous, and the Mercyhurst gear is also pretty outstanding, but get away from the visual side of things and remember that this was an a top notch game featuring two really interesting teams.  If you don't know much about DII, you should know this… Mercyhurst won the National Championship game last year.  These guys are legit.
Mercy, on the other hand, is a relatively new program without all the recent tradition that 'Hurst has.  They lost 10-4 this year, but only dropped the game 9-7 last year.  In 2011 they also beat NY Tech, and lost to then #1 CW Post 15-12.  In 2010 Mercy lost some games by 10+, to unranked teams.  In 2009, I don't think they existed.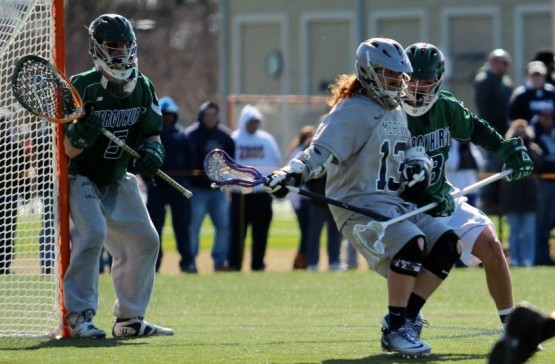 Basically, it's great to see a relatively new team to D2 come out and compete right away.
Thanks to Jeff Melnik of Conquest Imagery for the photos!  Great work as always, Jeff!
For the FULL album, check out Conquest Imagery on Facebook!