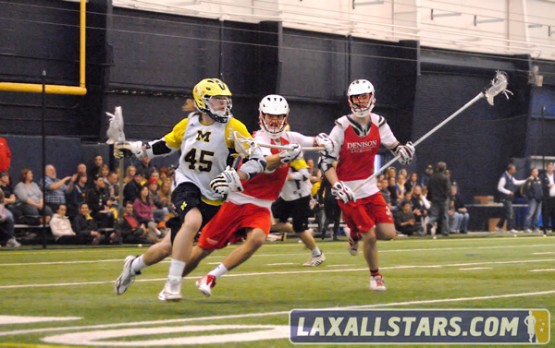 The University of Michigan men's lacrosse team scrimmaged the Denison Big Red on Saturday afternoon, winning 12-8. Since this was just a scrimmage the "win" won't show up on the Wolverine's official 2012 record, but its certainly still a good sign for the first year NCAA Division 1 squad.
Some lacrosse fans may quickly move to judge Michigan after seeing the final score, because hey, the Wolverines only beat a D3 team by 4 points in a scrimmage. However, it's definitely a positive result overall for the Wolverines. The game proved that Michigan is clearly at, or above, the level of a very good D3 team, and that means the Wolverines should fit into the D1 ranks somewhere.
Beyond that, without seeing the game for ourselves, we really can't tell you much more. All we can do is wow you with some great photos from Oosterbaan Field House!
As the 2012 college lacrosse season kicks off, we'll have plenty more photos of the Michigan Wolverines, and we'll try to provide more detailed game coverage as well. For now, feast your eyes on some intense pre-season college lacrosse – pinnies and all!
All photos by Holly Deremo. Thanks Holly!
CLICK HERE for more photos on the Lacrosse All Stars Facebook Page