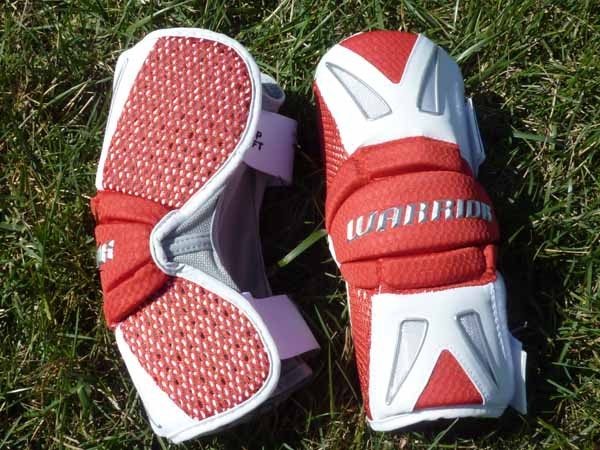 [rwp-review id="1″]
Company: Warrior Lacrosse / Product: Burn Arm Pads / Price: $60.99
I've been wearing the same arm pads for about a decade and have absolutely no idea why; they're bulky, they have no ventilation, and they're always sliding down my arms. I guess it's about time for an upgrade, so testing Warrior's Burn arm pads for the latest Gear Review was a perfect opportunity to see what I've been missing.
Appearance… +10.0
The Burn arm pads have an active look that's eye-catching without being overly busy. The colors pop, the lines are clean, and the metallic logo looks great across the elbow. They've got a little bit of flash with a little bit of restraint, and appearance-wise, they're a pad I would gladly wear.
Comfort… +7.5
Warrior says the Burn arm pads are 19% lighter than previous MPG Arm Pad models, and I believe it; they're definitely the lightest arm pads I've ever used. I assumed the sleeves would trap heat and sweat, but when I tested the pads during a box game, I didn't even notice them. Last but definitely not least, having both upper and lower straps made sure the pads stayed in place the entire game, which finally meant no more pulling my pads back up every few plays.
Protection… +5.0
Here's a lesson I learned the hard way: since the Burn's elbow padding is made up of three individual segments instead of just one larger one, there two spots that are essentially left unprotected when your elbow's bent. And that's not an exaggeration – stick your finger in one of the spots, and you'll be able to see it pushing through on the other side. Take a shot there, and it's going to hurt. Trust me.
Durability… +7.5
I'd like to think I put these pads through some pretty rigorous testing. In addition to wearing them during a box game, I kicked them around, used them like a cowbell and folded them up like origami paper. They came back every time without a mark or tear, so I assume these would last you multiple seasons without a problem.
Value… +7.5
The price of arm pads has a very wide range depending on what brand, style and size you're looking for. The Burns are right around the middle of the pack, and if they hold up as well as my highly scientific tests indicate they should, you could definitely get your money's worth.
Overall Score:  7.2/10
In addition to being insanely light and comfortable, the Burn arm pads look good and (I can't stress this enough) stay exactly where you want them. If you play attack, you'll probably want something with more elbow coverage, but if you strictly play midfield or defense, they're definitely worth a look. I'll have to keep my bulkier arm guards for box league play, but the Warrior Burn arm pads will be a major upgrade once field season rolls back around next spring.