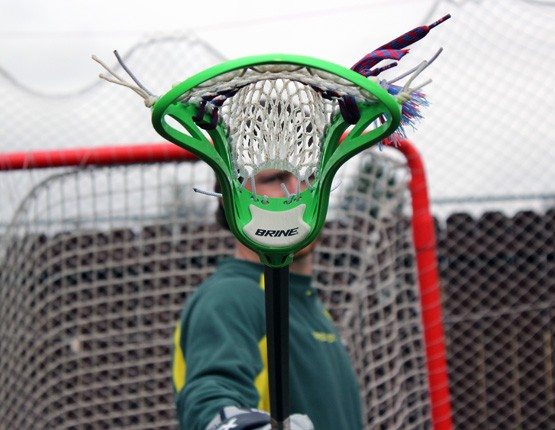 With lacrosse season at full throttle, we wanted to make sure you'd have the scoop on all the newest equipment, so we teamed up with Lacrosse Panda, Warrior Lacrosse and Brine Lacrosse to bring you a great line-up of Gear Reviews over the next two months!
Company: Brine Lacrosse / Product: Clutch Head / Price: $84.00
Today I get to review a true classic. Over the years, the Brine Clutch has been widely used by some of the best players in the game. In fact, it's Brine's best selling head of all time. It's safe to say that many offensive players from all levels have trusted the Clutch to lead them to clutch performances over the years.
Now before we get started, let me be up front about one thing: I've played close defense most of my lacrosse career. When I was tasked with reviewing the Clutch head, I saw this as a great opportunity to test out the head as a real "beginner".
As I began the review process, I made a point to treat the head as the first offensive head I've ever had, doing things I don't normally do, like stringing a lower pocket with extra hold and pushing myself through real shooting workouts.
Appearance… +2
As mentioned, the Clutch head is a classic. It's one of the most proven and best selling lacrosse heads of all time. Clearly, people love the Clutch head, and part of that probably has to do with its unique design.
When seeing my neon green Clutch for the first time, I couldn't help but pay attention to the narrow throat, intricate sidewalls and infinite number of stringing holes. It's a great looking piece of equipment, and I think it has a creative flare. Instantly, I wondered, how should I string this? How easy would it be to stall a ball on that sidewall?
Stringing… +2
As noted above, there are an infinite number of stringing holes on the Clutch head. Seven (7) top string holes and eighteen (18) per sidewall, to be exact. Unlike many other "classic" heads on the market, the stringing options are endless.
For me, having so many stringing options was a nice change from the head I typically use on defense. I've always strung a mid-range pocket with little-to-no whip, but I wanted something different when stringing the Clutch. So I opted for a low pocket with what I like to think is an "extreme" amount of hold. For once, I was going to have a stick like all those post-collegiate attackmen I play against in the Tahoe Lacrosse Tournament every summer.
Surprisingly, I strung the low pocket with ease even though it was my first time ever trying to do so. The Clutch string holes and curvature made it easy to find your preference.
Stiffness… +1
Typically I prefer using an extra stiff lacrosse head. While the Clutch head is much more stiff than the Remix Superlight Krieg reviewed on Monday, it is still not 100% up to my personal standards.
The good thing? When flexed, the shape of this head is restored the second pressure is removed. If your stick gets hung up on a ground ball, you won't need to stop and undo any warping or anything like that. Still, I wouldn't recommend the head for face-off man. Over time it may have trouble keeping it's shape. The Clutch is an offensive head through and through.
Durability… +2
I know many offensive players who currently use the Brine Clutch or have used it in the past, and I think that's proof enough that the Clutch doesn't have many issues when it comes to durability. Most players don't use the same head over and over if they have problems with breakage.
For me, the only thing I was initially worried about while playing was snapping the thin sidewall pieces with a check. In hindsight, I don't know that I should have been. Taking a closer look at the structure of the head, it is difficult to find a real weak point. The Clutch has withstood the test of time – it's a classic for a reason.
Value… +2
Looking at the Clutch from a beginner's perspective, I was quickly sold after stringing it myself. There is something about the ease of stringing and ability to "make it your own" that had me at hello. So, yes, I think the Clutch has value. The price is right. I would buy this head for $84.
Overall… 9/10
Reading through my points above, it's tough for me to pinpoint many negatives about this head for an offensive player – particularly a beginner. Legal for Youth and High School play only (though I'm sure some MLL players use it too), the Clutch fits the mold for any offensive player looking to treat their stick like a quarterback treats a pigskin. If I were a full-time offensive player, I'd certainly consider the Brine Clutch.