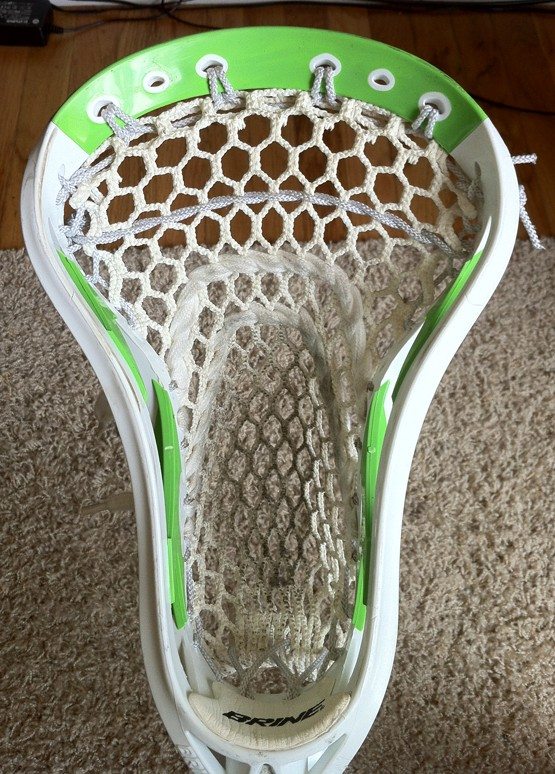 With lacrosse season at full throttle, we wanted to make sure you'd have the scoop on all the newest equipment, so we teamed up with Lacrosse Panda, Warrior Lacrosse and Brine Lacrosse to bring you a great line-up of Gear Reviews over the next two months!
[rwp-review id="1″]
Company: Brine Lacrosse / Product: Clutch 2 Head /Price: $99

Today we review the last of the Clutch family of heads, the Clutch 2.  The Clutch 2 features Brine's 2-shot molding process, their patented offset technology, and it has reverse flared sidewalls for a tighter channel and pocket.
Perhaps the most noticeable element about the Clutch 2 is the second color pop that adds a little flair to the head while increasing the stiffness in key areas.  While a bit heavier than both the original Clutch and the Clutch Superlight at 4.9 oz (only .2 oz heavier than the Clutch), it is still a fairly light head.
Appearance… +10.0
The appearance of the Clutch is definitely the selling point, and I have no problem with that.  Not everyone knows how, or even wants to dye their head, but that doesn't mean people don't want their heads to have some zing.
Most people would probably like to have the option to add at least a little customization to their head to make it unique – the Clutch 2 offers this.  Being able to choose from nine different color options allows you to find that certain je ne sais quoi to your head and make it truly yours.
Combine that with the reverse flared sidewalls and you have one aggressive looking head.  The Clutch 2 is an offensive-focused head through and through, but as you will soon find out, it doesn't discriminate against those looking to play a little defense.
Stringing… +10.0
As you've seen with both of the previous Clutch models, they offer a plethora of holes to use for whichever string job you decide you want. With six across the top and eighteen going down each side you could string up a traditional and a 10-diamond on the same head (though I don't recommend it).
All kidding aside, you have a lot of options when it comes to stringing up the Clutch 2.  I think even Rottman would be happy with stringing up this head, the color popping in the sidewalls help you to keep a tight pocket without the head pinching from the stress.
One of my favorite parts about heads like this, is that you can lock down your shooting strings to the sidewall.  With the added holes throughout the head, it was very easy to find an open hole to slide the string through so I didn't have to go around the entire sidewall.
Stiffness… +7.5
The second color pop on the sidewall isn't just for some added aesthetics. As stated previously, the colored portion makes a very noticeable difference in the stiffness of the head as well. While still flexing just a little bit, a player can use this head to confidently play both sides of the ball.
Throughout games and even while coaching, the head was much more rigid on checks, through ground ball scrums, and in driving through multiple defenders in search of glory.  Compared to the head I currently use as my gamer and many of the other ones I've tested, I'd even go as far as saying a defenseman, or at least a defensive middie, could take the Clutch 2 for a spin.
I haven't heard how these color pieces hold up throughout an entire season, but based off of what I've been working with they seem to be holding up just nicely. The extra stiffness is well worth the added weight.  The only think that worries me a little is a slight popping or creaking sound that happens when I flex the head under my own power.  I think this is a factor of the color pieces.
Durability… +7.5
I've heard some good and some bad things about this head.  Let's be honest, when companies try new things, sometimes they flop and sometimes they're a huge hit.  However, it appears Brine is on the safe side with this new addition! Even with everything I put it through, the head never showed any sign of breaking because of the color additions.
While the slight popping sound was a little disconcerting, it doesn't seem to have any affect on the overall durability of the head as of yet and it's slowly fading away.  The 1.5 score simply reflects my question mark surrounding season-long durability.
Value… +7.5
Ringing up at $99, the Clutch 2 is the most expensive head in the Clutch family, and it's also the stiffest of the three that we've tested.  $99 for a durable, all-around head that will keep up with you on the field is a very reasonable price in my book.
Overall… +8.2/10
Rottman described the Superlight as the Brine Clutch on a diet, and I feel like the Clutch 2 is just the opposite.  This guy hit the gym, upped his protein intake, and may or may not have dabbled in steroids.
The added flash of the custom colors not only enhances the appearance of the head, but also the overall performance.  Solid stiffness, millions of stringing options, and some added color popping to help you stand out a little while staying classy – can't complain a bit about that.
In my opinion, the Clutch 2 is a great pick for someone who isn't worried about sacrificing a couple of ounces to give their head a little pizazz and density.  Whether you play attack or midfield, this is a solid pick for your next weapon of choice.
Got some gear you wish we would review? Hit us up and let us know what you think we should review next.