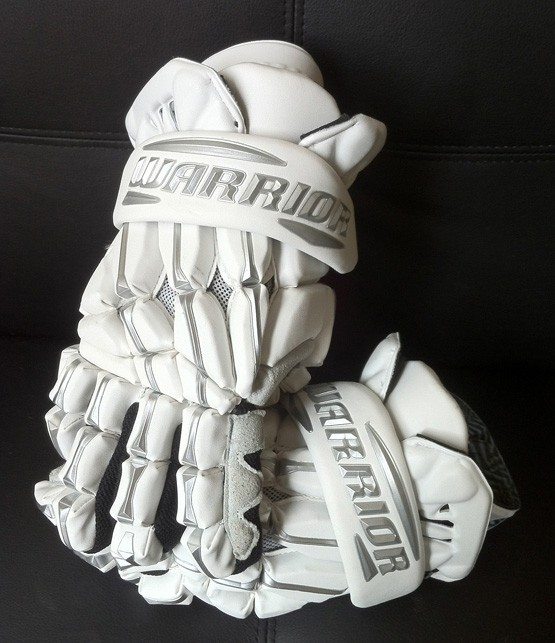 With lacrosse season at full throttle, we wanted to make sure you'd have the scoop on all the newest equipment, so we teamed up with Lacrosse Panda, Warrior Lacrosse and Brine Lacrosse to bring you a great line-up of Gear Reviews over the next two months!
[rwp-review id="1″]
Company: Warrior Lacrosse / Product: Regulator Gloves / Price: $174.99

Warrior Lacrosse has been known to produce some high quality gloves, so when I received the Regulators I had high expectations. I knew I'd have to put them through the gauntlet, but would they rise to the occasion or crack under pressure?
The Regulators are Warrior's lightest-weight high-performance gloves and weigh in at a whopping 7 oz. There are a ton of new features to this glove that add to its high quality performance, but I'll get into those as the review goes on.
Right out of the packaging, I'm never too quick to judge a pair of gloves… I've had a couple pairs throughout my career where I thought they'd be terrible, but they ended up being my favorites (and vice versa). The Regulators do make a great first impression though – a very classy design, super light, and snug but not too snug.
Appearance… +10.0
By now, you've probably seen Drexel and the million other Warrior teams that are sporting custom Regulators this year… there is a reason for it. The Regulators come in several different colorways, and whether you choose one of the seven stock colors or go the custom route, you're sure to look good. I'm not a big fan of all white stuff, but I'm still having a hard time letting go of these gloves.
The Regulator gloves have a unique four diamond design on the back that not only looks good, but is supposed to help with ventilation through the backhand. Warrior took a different route with their cuffs this time too, designing a much slimmer set of pads around the wrist of the glove. The other big feature that popped out to me was the palm of the glove – it is a one piece design with an added insert through the palm, probably to add a little extra durability.
Comfort… +10.0
The very first time I put on these gloves, I felt like I had slipped my hand into a big dish of butter. It was amazing. There was no break-in time needed, and the overall feel of the palm and padding made me feel like I was cuddled up next to a fire with my favorite fleece blanket.
The palm is made of Warrior's Axe Suede material, which is used in their high-end NHL gloves (talk about big time). I really noticed a difference with my grip on the stick. I've cut the palms out of several pairs of gloves, and it was definitely comparable to that feeling.
It's hard to play great though when your hands are drenched in sweat. Warrior is using a Chill Wave liner, which is a material taken from cycling. It is designed to react with the sweat and cool you down, and it definitely reminds me of a Heat Gear or Dri-fit style material. I noticed a difference when playing in our Indoor Chumash games.
Protection… +10.0
Finding out that a glove only weighs seven ounces might make you think twice about the protection level it offers. However, once I started playing with the Regulators, I was pleasantly surprised by the amount of protection they provide.
Warrior has changed up the cuffs from their standard padded design to a more molded cuff – the idea obviously being that it will help to decrease weight and bulkiness while maintaining some level of protection.
The wrist area of the glove is noticeably more flexible, and I felt like I had a much easier time moving through the entire range of motion required in shooting and passing. As you can see by the score, Warrior made sure to think of ways to improve the padding with the changed design.
Checks bounced off my hands with little pain. I took a few on the wrist and thumb that I though would have me second guessing the molded cuffs over the standard ones, but I never did. I believe this is due to the design of the cuffs.
Standard cuffs are obviously a little thicker than the Regulator's. To make up for the lack of thickness, Warrior flared the cuffs out a little. This, along with the stiffness of the molded cuff, helps absorb the impact of checks as the stick crashes into the pads.
Durability… +7.5
All evidence points to a great pair of gloves that will last a long time. The quality of stitching, padding, and material doesn't seem to show any signs of early weakness. The only thing that brings the Regulators down a notch are the palms. While I absolutely love the grip and feel the Axe Suede material offers, I don't foresee the palms being able to withstand the duration of a season without some holes opening up. The material is thin, and while it offers great feel on the stick, it will show signs of wear much sooner than a thicker palm.
Whoever wins these bad boys will have to keep me updated on how they hold up (and maybe allow me custody on the weekends).
Value… +7.5
Ringing in at $174.99, these are definitely high-end lacrosse gloves. Price-wise they are comparable to the Maverik Romes, Reebok 10k's, Brine King III's, and just a little bit above the Nike Vapor Elite's. Given the quality product that Warrior is offering with the Regulators there isn't much wrong with the price, other than the simple fact that $175 is a lot for gloves no matter what you're buying. Again though, let me reiterate that these gloves are top-shelf quality.
Overall Score: 8.8/10
Without a doubt, the Warrior Regulators deserve a great score. Outside of the price tag and the question mark surrounding the durability of the palms, the Regulators are an outstanding piece of equipment.
I don't give out 9's to just any pair of gloves, but as you can tell through this review and the mass amount of NCAA teams wearing the Regulators, they are great gloves.  The Regulators are the complete package – they look fantastic, they're very customizable, and they provide thorough protection. Not to mention that incredible big dish of butter. Consider me a happy reviewer.
Know of some gear you wish we would review? Hit us up in the LAS Tipline and let us know what you think we check out next.