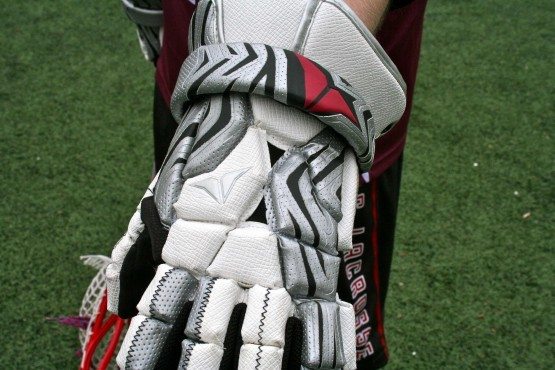 With lacrosse season at full throttle, we wanted to make sure you'd have the scoop on all the newest equipment, so we teamed up with Lacrosse Panda, Warrior Lacrosse and Brine Lacrosse to bring you a great line-up of Gear Reviews over the next two months! 
[rwp-review id="1″]
Company: Brine Lacrosse / Product: Shakedown Gloves / Price: $194.99
This month, along with our great line-up of Warrior/Brine Lacrosse Gear Reviews, we're hosting the March Lax Madness Giveaway in The Lacrosse Shop to hook up the most loyal LAS supporters. When you make a purchase of $50 or more, you're automatically entered to win Brine King III Arm Guards and Shakedown Gloves. That said, we wouldn't want to giveaway gear without giving you the scoop on what it's all about, so today we are reviewing the Shakedown Gloves by Brine Lacrosse.
Lacrosse season is underway and I couldn't be more excited.  With a new season of lacrosse comes a new season of gear.  Some shiny, some flashy, some straight up head turning, but all new and all a stab at advancing the designs and technologies of last years hot commodities.  This fall I banged up my thumb pretty good and have been dying to get my hands on a new set of gloves, so of course I jumped at the chance to review the Shakedown gloves by Brine.
Like the late great Johnny Appleseed (new lacrosse mascot, I think so) I can't tell a lie, so I am not kidding when I say I nearly called Krieg after opening up the package from LAS HQ that was a set of Shakedown gloves to say the gear "got lost in the mail".  These gloves are sweet, and better yet, you can find them on clearance on most lacrosse websites.  I definitely think I'll be ordering up a set of my own.
Appearance… +10.0
These gloves definitely live up to their name by "Shakingdown" the competition when it comes to appearance.  Even in the stock color options (White, Black, Red, Navy, Royal, Green) I love the look of the Shakedown.  I'm not always the biggest fan of companies that throw silver at their gloves or pads to make them fairly compatible with any teams uniforms.  That said, the use of the silver in the Shakedown's design just seems to fit.
Brine's unique Elephant Skin protective material gives the glove a look and feel unlike any other glove on the market.  The Shakedown is has just enough flash to show people you want the ball but still finds a way to be a bit of a sleeper for those of you that like to shock the competition after a quick one-two criss crossover dodge from up top. Best of all, the Shakedown gloves can be customized with an endless selection of color combinations through Brine's website.  I took a quick pass at a set in red, white and blue below for the LAS faithful.
Comfort… +7.5
The Shakedown glove is lightweight, breaks in fast, and has a floating wrist guard that allows you to decide whether or not you want a bit more protection or a bit more flexibility.  The padding above the wrist cuff sits loose enough to give you a full range of movement when cradling and dodging and the fingers are spacious and let you really feel the stick.
With all of the advantages, the Shakedown gloves do have a few flaws in the comfort department.  The first is that the glove doesn't breathe all that well.  Minimal venting in the upper hand and palm means your hands heat up in these bad boys on a toasty day.  The second, and more important, is that the three pads beneath the fingers are a bit clunky and ultimately prevent these gloves from moving and flexing as much as I would like them too.  All in all I got used to the pads quickly and I'm sure the Shakedown will only continue to get better as it loosens up during the season.
Protection… +10.0
Like I said earlier, last fall my right thumb took a beating and I continue to keep banging it up in my current gloves.  I've tried on nearly every pair of gloves I have come across, from my teammates' to gloves at the local lacrosse store, and I have yet to find a pair that feels like they have thumb protection that is any different from any other glove on the market.
When I slid the Shakedown gloves on it was like Cinderella's glass slipper.  Brine got thumb protection right with these gloves.  The thumb is wider than most but the design of the inside of the thumb keeps the added protection from making the glove feel like a goalie's.
In addition to the added thumb protection Brine brought a whole team of protective features into the rest of the design of the glove.  The Shakedown tucks dual-density foam construction and carbon composite knuckle and fingertip protection under Brine's trademark Elephant Skin cover.  Not only is the Elephant Skin all you can imagine it to be in terms of toughness and protection, an added bonus is that the material is water resistant, which comes in handy in rainy cities like my hometown of Seattle.  The gloves keep you protected, dry, and ready to take on anything your defender thinks he can throw at them.
Durability… +7.5
If it wasn't clear already, I'm a fan of the Elephant Skin technology.  The material is ready to rumble and seems to be some of the sturdiest glove technology on the market.  Not only is it tough, but it is water resistant which will help keep this glove looking new even in the worst of lacrosse conditions.
The Shakedown's palms are primarily leather which I find is a huge durability advantage.  I've found that the more mesh a palm has the quicker it breaks down. I play with a lot of tape on the end of my stick, in rainy conditions and often on sloppy fields.  The dirt, tape and wetness combo tends to rip right through mesh in my gloves so I like to see palms that have multiple layers of leather.
The Shakedown's only durability flaw seems to be the stitching on the upper hand.  It may be due to the more rigid Elephant Skin, but a lot of the stitching seems like it may fall apart after a couple of seasons.  I guess only time will tell.
Value… +5.0
With a retail price of $194.99 these gloves are a bit steep.  I think the Shakedown is a great glove, in fact I just picked up some for myself.  That said, if I were to buy them at full price they would be in the upper end of the glove market and I may have to shop around a bit more before buying them.  Fortunately you can find the Shakedown on clearance at a number of different sites.
Overall… +7.8/10
The Shakedown's charm is so contagious vaccines have been created for it.  Aliens abductors have asked these gloves to probe them.  The Shakedown wouldn't be afraid to show it's feminine side… if it had one.  When wearing the Shakedown in Museums you are allowed to touch the art. The Shakedown has won trophies for their game face alone.  If you had them on you could bowl overhand.
They are… an exceptional glove overall.
The Shakedown looks and feels tough.  The glove keeps you protected and bounces back ready to take on more of the action.  They look great and with Brine's custom design page your non-Shakedown wearing mind is the only thing that is preventing you from having endless possibilities.
The glove is a bit expensive if you buy it full price and one can only cross their two-toned, Shakedown fingers that the stitching will last as long as the Elephant Skin, but at the end of the day I'm sitting online trying to find the best deal on a set for myself right now as the Shakedown is a glove that will definitely be worth it.
Have some gear you wish we would review? Hit us up and let us know what you think we should review next.