[rwp-review id="1″]
Company: Maverik Lacrosse / Product: Spider 17 Head / Price: $94.99
With high school ball ramping up for playoffs in some parts of the country and midseason in others, we knew this would be a great time to review a NFHS only head, enter the Maverik Spider 17. Built for the offensive player, with a tightly pinched throat for ball control, plenty of lacing options, and aggressive ramp positions for quick and accurate release, this should be a great head for any high school player looking to take their game to the next level.
Let's check it out!
Appearance… +7.5
I was pleasantly surprised when I first started checking out this head. It looks pretty futuristic and techy with all the different struts and accents, but not to the point where it becomes gaudy. It kind of reminds me of the guy who always dresses a little outlandishly, but after you take in his full outfit, you kind of nod your head in approval.
Stringing… +5.0
The stringing leaves a little to be desired, only because it is just your standard set-up and offering for number and placement of sidewall holes. It took me a couple of times to find the right set-up, but I got something pretty close to what I play with in my own gamer. I kind of feel like companies need to just buy in to the sidewall hole extravaganza and make it a regular thing.
If you aren't offering up 15+ holes along the sidewall and six holes along the top wall, then why bother? It isn't just stringing fanatics any more who love to play around with different combinations and set-ups. Like I keep telling one of my own players. Stop stringing a Mark Matthews pockets and start stringing a (insert player's name here) pocket.
Stiffness… +7.5
Stiff, not but rigid. Especially for an attackmen-focused head, I see no problem with a head having some flex in it, especially if it is then able to offer up a lighter weight. I'd say this is a great score given what the head is desired for. As you can see with the extra rib joints along the throat of the stick, it is much stiffer down low and more flexible up top.
I would love to see how the college version compares with the wider throat.
Durability… +7.5
This head could definitely stand the test of time. The only area that even remotely concerns me is the brace running almost parallel with the sidewalls. Maybe with the extra rib joints above and below it, durability isn't an issue, but for appearance's sake, it worries me.
I really appreciate that Maverik took the time to reinforce the throat of the stick. All too often, I see too many heads break around the throat of the head. This should be the least of your worries in my opinion.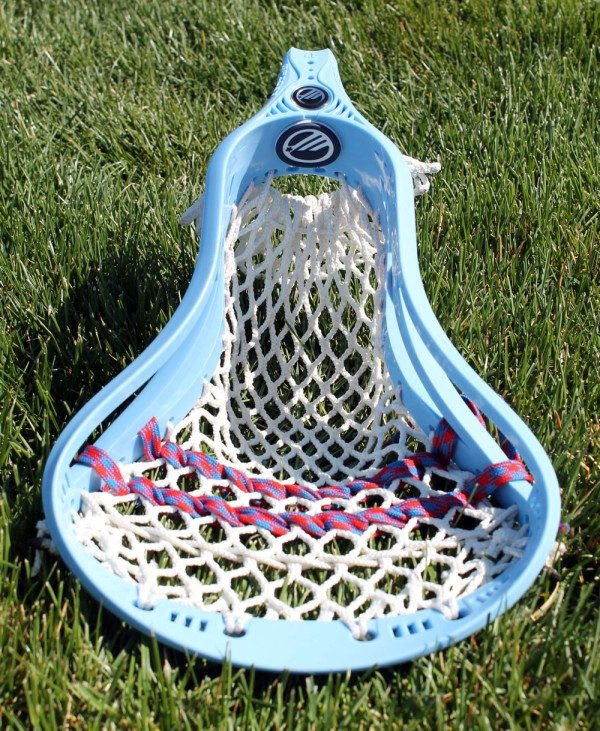 Value… +7.5
Ringing it at $94.99, it's still essentially a $100 head, which for any high school player could be a little pricey. Taking into account what the Spider head brings to the table though – solid durability, great looks, average stringing options and enough flex to let you get the job done, I think 7.5 is a great score for the value of this head.
Overall: 6.6/10
4.8 ounces unstrung, nicely pinched for added ball retention and a decent price tag of $94.99, not bad at all. Overall, I think the Spider 17 offers a lot in comparison and should be on the watch list for every youth and high school player looking to get a new head.