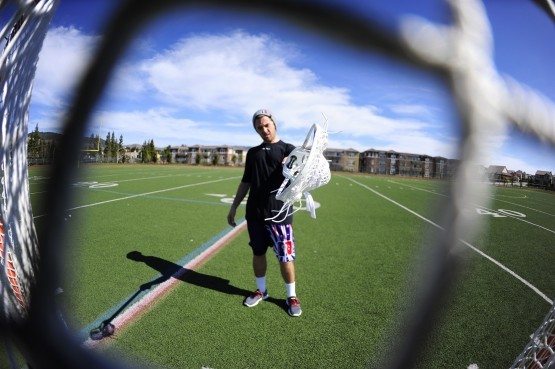 Company: Easton Lacrosse / Product: Stealth HS Head / Price: $108.99 (Strung)
After playing in the Hawaii Tourney with Blake and Cort Kim of Easton Lacrosse fame and throwing around with the Easton gear I'd never played with, I was extremely eager to test a head that wasn't simply reinventing the wheel in terms of design, but truly attempting to innovate and try new design concepts and ideas.
Personally, as a guy with a serious gear obsession, that makes this a BIG gear review. We're not testing the new cool stick, we're testing the new ideas in making sticks stronger, lighter, stiffer…well, just plain better!
That's where the Easton Stealth HS head comes in. Needless to say, I was beyond excited to find out that the guys at Easton would be providing me with this head to review.
Before I say anything, take a look at what the Brothers Kim have to say about it, directly from the mouth of Easton:
Appearance… +7.5
The bottom line is the head looks sleek, like many top of the line heads on the market. It has a simple sidewall design, and not too many non-functional bells and whistles.
Like most things with box-beam construction, I think the lacrosse community will come to know this head like we do an iconic bridge–you'll never forget what it looks like, if only because its aesthetic is mostly practical. Engineers don't build iconic bridges the way they do because it looks cool; it's gotta hold your car above water first, and it will look good because we appreciate we're not underwater.
The Stealth HS head comes in both black and white, strung and unstrung.
Stringing… +7.5
Now this is an important section for me, because I string every stick before I ever hit the field with it. I don't think it's fair to assess a stick without knowing it'll throw the way I want it to. We're not reviewing factory stringing, we're reviewing the head, even in its unstrung condition.
The Stealth didn't disappoint in this department. There are a ton of holes down the side, which for those of us who remember drilling new holes in our heads 10 years ago is a godsend. This head was actually a pleasure to string, but it is a bit off-putting initially because when you first get the head, it is neither offset nor very pinched. I get the sense the non-offset has little to do with stick performance and everything to do with patent law.
So, what I did was string up the whole head and then crank away on that screw Cort Kim showed us in the video above until it almost couldn't go anymore. The result is a nice offset pinched head perfect for offensive midfielders and attackmen. Attackmen especially because I found that the bottom holes, which go back toward the shaft at the bottom instead of staying on their sidewall line, makes creating a low pocket very manageable. This is the only thing I couldn't quite figure out why they did it from a practical standpoint, but I didn't mind it either.
BUT in order to achieve a head that can literally change its shape at the turn of a screw, something's gotta give. In this case Easton had to employ more plastic in front of the shaft to counterbalance the yellow grommet, making it feel more like a non-offset head even after cranking that screw down. There's plastic weight in front of the shaft that we're used to feeling behind it, and you can see it in my photo above. In Easton's defense, it all goes away once you get the ball. I didn't feel like this hindered my play in any way, and I put this stick through hell…
Stiffness/Flexibility… +10.0
This is where the Easton Stealth HS head gets a resounding +10.0. If you watch the video above, you'll see Cort discuss both the box-beam construction in the sidewalls and Easton's removing stiffness from the top of the head so it can actually adjust to ground balls. These two elements are what makes this head far superior even to my beloved game head, the Warrior Evo Pro X6.
It's simple, this head is stiff all the time. Until the ball hits the ground. The box beam construction is designed to have the head keep its shape, which is a must for FOGOs and defensemen alike. This head and the STX Stallion are really the only two I'd give a +10 in this category because they're working to push the boundaries of what's possible in terms of stiffness and maintaining shape. Everything else is just following now.
Durability… +10.0
I put this head through the freaking meat grinder. I wanted to put this box-beam construction to the test (after all, not all new ideas are good ones). I bashed it against things. I let defensemen try to wreck it. I crease dove and landed on it. I did Indian pickups in games. I even took faceoffs by myself! I've never taken a faceoff in my life. The Stealth HS head came out the other end pretty much unscathed.
The box-beam construction really lives up to its design concept, just like a good bridge. It's stiff. Ok, we get it. But what does this box-beam construction do to the head other than making it stiffer?
It moves the sidewall holes way to the outside of the head where the ball will never hit nylon. This will cut the likelihood of breaking sidewall strings in half, but it also makes the ball rattle around in the back quite a bit more, which for me was unsettling because I don't like to feel the ball move AT ALL (which is why I use the narrowest head possible). The head feels a bit wider than it actually is. That being said, I wish I didn't perpetually worry that "This is the game my sidewalls are finally going to snap" with my gamer, so maybe it's an improvement?
Value… +7.5
This is Easton's top of the line head, but they only have two heads. At a whopping $108.99 (Strung), it's one of the pricier heads Lacrosse Panda carries.
BEWARE, OPINIONATED RANT AHEAD: The difference between this head and any from Warrior, Brine, and STX is that you're not only paying for the head anymore, you're paying for Easton Lacrosse to continue developing a brand new R&D department in the lacrosse market that is obviously working to evolve the head from what it is to what it will be.
Why does everyone else continue to produce the same thing in a different marketing package? Did anyone ever notice that the Warrior Mojo seems like the same exact head as the Finalizer which was once double the price? A new set of eyes designing is in everyone's best interests, even other head manufacturers.
I'm so sick of patent lawsuits and great companies like Easton having to tip-toe around something as universal as an offset head! It shows me someone out there is more concerned with corporate profit margins than creating a better product for the players, and that has never been what this sport is about. Realistically, companies should be pushing each other to create the best product, not preventing each other from doing just that.
We need more companies innovating and collaborating, and I support paying a bit more for a head knowing that my money will go to Growing The Game from a technological standpoint. End rant.
Overall Score: 8.2/10
These are high marks for a new head. Not a single category received less than a 1.5. This is a fantastic start for Easton's design efforts, and I can't wait to see how they blossom into a full-fledged manufacturer. Beyond just playing with this head or not, if you want to see what Easton Lacrosse can do as a manufacturer, you need to support them. That's enough incentive for me.
Got some gear you wish we would review? Hit us up in the LAS Tipline and let us know what item you think we should take on next!
Editor's note: We will be giving away a black, unstrung Easton Stealth HS head this Saturday Sunday! Keep an eye on the LAS Facebook page for more information on the contest.