Get your Halloween costume ready… It's contest time at Lacrosse All Stars again!
A few weeks ago, Mark and Michael were down at LXM 801 in Orem, UT, and they got one of our member's only #StringItForward Stringer's Packs signed by a bunch of the LXM-Pros. Today we're excited to announce a great new Instagram contest to give you a chance to win it!
The autographed pack will come complete with a LAS themed Jimalax stringing kit, stickers, and more. Check out the photos and find out how to enter to win below.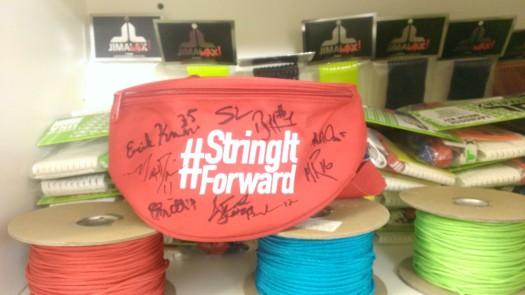 The Stringer's Pack is autographed by the following professional lacrosse players:
Team STX
Andrew Casimir, Peter Baum, Matt Russell, Benson Irwin, Sam Bradman, Matt Drenan, Davy Emala, Geoff Worley, Maxx Davis
Maverik United
Shamel Bratton, Johnny Christmas, Erik Krum, Billy Bitter, Johnny Rodriguez, Zach Brenneman, Graham Gill
Here's How To Enter:
1. Follow @donahueref (Mark) and @_michael_allen (Michael) on Instagram.
2. Post a photo of you wearing your halloween costume while posing with a lacrosse stick, and type #StringItForward in your post.
3. Tag @LaxAllStars in the photo.
And that's it! May the best photo win!
Entries will be accepted now through Halloween day (Oct. 31st). We'll also be choosing 5 second prize winners, and each will receive a free LAS Membership – including a $25 Gift Certificate to LACROSSE.COM!
Winners will be announced in the November 1st edition of The Weekly Draw, so make sure to become a FREE Member of LaxAllStars.com today and you'll automagically receive every new issue.