In yesterday's Wednesday Games To Watch,  I called out the Stevenson – Tufts game as one to watch.  I was right that it was a game worth taking in, but oh so wrong when it came to the outcome.  I had Tufts coming to town, playing disciplined and physical lacrosse, and winning big (I said by 5!).  But instead, Stevenson came out hot, played smart lacrosse, and won 9-5.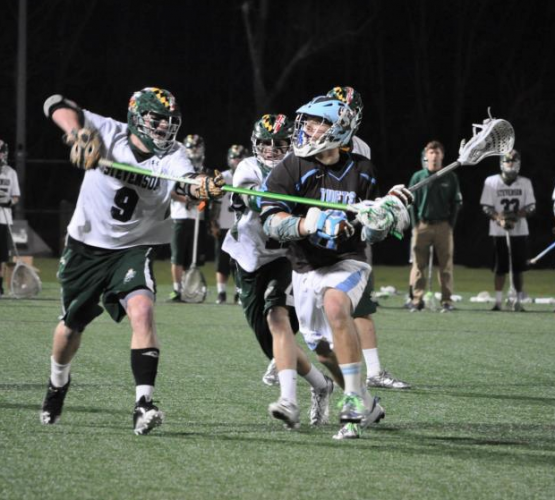 It seems like I wasn't even close with my preview.  So what did I miss?  The Hot Pot has you covered.  For more great Tufts – Stevenson Photos, check out 24SevenLax's Facebook page!
When I looked at each team before the game, and their respective records, I thought I knew what I was talking about.  And the chances I've had to watch either team play really seemed to back up my thinking.  Tufts seemed persistent, and they seemed to have their eyes on the long goal, and the eventual prize; a win.  Stevenson, on the other hand, looked rushed and impatient, and when they were losing, they seemed to play like one goal could get them back in the game even if they were down by 4.
The other thing that stood out to me was Stevenson's lack of experience and upperclassmen.  The Mustangs start 6 or 7 freshman, and in past games it showed.  There was clearly talent there, and the team showed moments of brilliance, but I was sure they wouldn't be able to flip the switch that quickly and become a real team capable of beating the best in the country.  But clearly that is exactly what happened here.  Stevenson literally just got better in three days.
That's my story and I'm sticking to it.  Stevenson lost to Lynchburg 6-3, beat York 7-5, and then lost to Cortland 13-9 before beating Tufts last night.  And it's my theory that something changed during that time period between Saturday and Tuesday.  We've seen this happen at Lehigh this year (when a players only meeting flipped the switch), and teams have definitely had "breakthrough" games in the past and then gone on to see great success for the rest of the year.
And the rest of DIII needs to know that Stevenson just made that switch.  Stevenson's next four games are all winnable games, and then they face Denison, a team which is ranked in the top 10 right now.  Then the Mustangs have 4 games left, the third to last of which is against Salisbury.  Even if Stevenson went 6-2 during that stretch they'd be in a good position.  But after watching them play last night I think they can take Denison now.  And even Salisbury is within their reach.
From the evidence out there, my Tufts over Stevenson call seemed legit.  But there was one thing I didn't consider, and that I couldn't possibly know… Stevenson has flipped the switch, and become an elite team again overnight.
Got some thoughts on how Stevenson made the switch?  Or is Tufts just overrated?
________________________________________________________________________
LACROSSE IN OTHER NEWS:
– Siena gets big win over Stony Brook in home opener | Times Union
– Elon University to add Women's Lacrosse | The Times News
– Cornell beats Denver 9-8 on Long Island | CornellBigRed.com
________________________________________________________________________________
LACROSSE VIDEO OF THE WEEK:
Boy's Latin (MD) – St. Andrew's (FLA) video highlights.  HS Balling!