Even if you watched the 2011 NLL All-Star Game with one eye closed yesterday afternoon, you still realized what lacrosse all-star games are all about: OFFENSE TRICK SHOTS. If you tuned in to watch defensive action, all you were left with was a sloppy game of freeze tag.
That being said, it was what it was: an all-star game. Fun to watch, for the most part. At least the sideline interviews were semi-entertaining.
Syracuse.com has a ton of great photos from the NLL All-Star Game. Below are a few of my favorites and a link to the full gallery. Enjoy!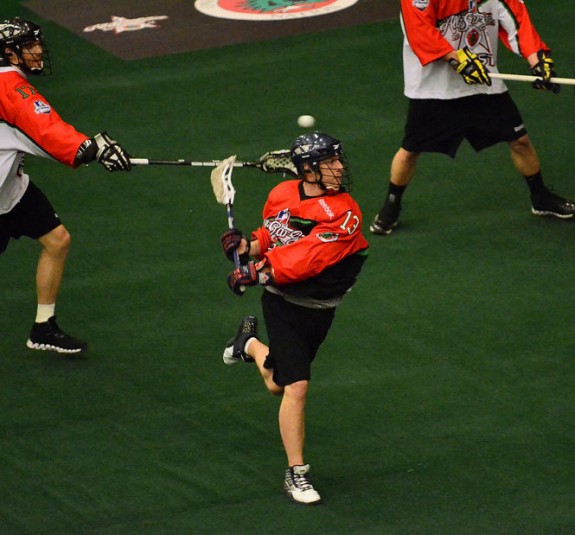 More coverage from the 2011 NLL All-Star Game:
– East beats West 30-26 in NLL All-Star Game | Herald Net
– Bucktooth scores game-winning goal in NLL all-star game | Syracuse.com
– All-Stars light up scoreboard | BuffaloNews.com
_____________________________________________________________________________________
IN CASE YOU MISSED IT
– Grant Catalino is mostly unstoppable as Maryland lacrosse tops Georgetown | Washington Post
– Cornell beats Hobart, wins DeLuca's debut as lacrosse coach | Ithaca Journal
– UAlbany loses opener to Drexel | TimesUnion.coma
– Stony Brook Falls to Top-Ranked Virginia in Season Opener | Three Village Patch
– Minutemen lacrosse team defeats Ohio State | MassLive.com
– Fourth-Quarter Rally Comes Up Short As St. John's Falls To No. 18/19 Yale, 10-8 | RedStormSports
– Announcement: FIL Development Clinic 2011 | Thailand Lacrosse
– Sunday Brunch | 412 Lax
– MCLA Press Release Palooza | MCLA FAN
– Man-Bro Sunglasses: The Neon Collection | Sweet Sweet Lax
– New Maverik Lacrosse Commercial: "Maverik Training Center" | Sweet Sweet Lax